I'm excited to be attending the HIMSS conference this week, but a quick look at their hashtag guide left me with more questions than answers. I dove into the guide so that you don't have to. Here's my consolidated guide to the HIMSS hashtags:

HIMSS16 on Twitter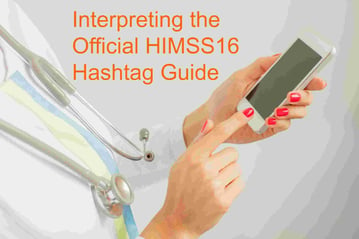 As those in the health care and medical technology industry know, HIMSS is the largest health care IT conference in the United States. According to the HIMSS16 Hashtag Guide, #HIMSS15 was tweeted a total of 88,990 times last year. What does this mean? Attendees of HIMSS are having conversations on Twitter about the conference that your organization should be tapping into.
To help you better understand what the official hashtags mean, I've put together this quick primer with short descriptions, resource links, and links from the hashtags that will drop you right into the middle of the conversations happening on Twitter.
I wrap up this piece with some advice on how to use this information to your advantage. Skip down to the last section to learn how these hashtags can help you gain insight into potential partners and prospects.
#Engage4Health
The #Engage4Health hashtag ties into the medical technologies that allow patients to take a greater role in their health and healthcare. Events that will be using this hashtag include a Wednesday, March 2nd session from 9:30 am-9:30 am PT called Generational Factors in Patient Engagement and a Thursday, March 3rd session from 10:00 am-11:00 am PT called Navigating Connected Health in a Data-Driven World. Click on the #Engage4Health tag to see some of the top current Tweets.
#HITSecurity
This topic deals with privacy. Use this hashtag to learn more about the HIMSS Healthcare Cybersecurity Community or to find out what's happening at the Cybersecurity Command Center. This topic is critical for hospitals and payers who are trying to leverage the Internet to create more efficient services. Follow this one closely if you're looking to engage in conversations about emerging cyber threats in the healthcare space. In particular, check out the sessions on Systemic Management of Medical Device Cybersecurity on March 2nd and Implementing Healthcare Cyber-Hygiene with Critical Security Controls: A SANS Workshop on March 3rd. Click on #HITSecurity to see the videos Twitter users are posting about this topic.
#Nurses4HIT
HIMSS attendees know that nurses are vital to providing excellent care. This is why they're devoting part of their online conversation to #Nurses4HIT. This conversation revolves around how nurses are at the leading edge of "transforming organizational operations and patient care." HIMSS events on Tuesday, March 1st and Wednesday, March 2nd will focus on the role that nurses play in clinical information technology adoption–with events that focus on medication administration and enhancing doctor-patient relationships. Join the conversation by clicking #Nurses4HIT.
#DrHIT
This hashtag is focused on the physician. Specifically, it centers on how doctors can balance their use of relevant technology solutions with their core focus: healing people and caring for lives. This hashtag will cover topics like point of care usability, technology efficiencies, and next-generation health IT tools. You may find conversations around this hashtag during the March 1st, 2016 event, Rising to the Challenge: Heart Attack Prediction, as doctors and other attendees learn about how the University of Mississippi Medical Center is using a predictive analytics solution in an attempt to help reduce the heart attack rate. See more on UMMC's story on their site. View live tweets for this tag by clicking on the link #DrHIT.
#WomenInHIT
This hashtag is where you'll see messages that are about supporting and empowering women in health IT. Along with sub hashtag #HealthITChicks, this tag will focus on conversations from and about some of the industry's most powerful women innovators, leaders, and entrepreneurs. You can share your story by clicking hashtag #WomenInHIT. You can also join your female colleagues at Madame Tussauds on March 1st at 6:30 pm for a cocktail and networking reception ($45 fee for reception).
#GenY4HIT
HIMMS encourages people to discuss the role of health IT for millennials using #GenY4HIT. A $20 reception is being held on March 2nd at The Label Lounge at the Palazzo. Join Millenials on a Mission: Future Leaders of Health IT Reception for cocktails, conversation, and a photo booth. Join in on the conversation to network with peers born between 1980 and 2000 using #GenY4HIT.
#HITworks
This hashtag is for the analyst in everyone. Join the #HITworks conversations for talk about how to quantify the value of health IT. These conversations will involve optimizing IT investments. Join the live event, Quantifying Value: Leveraging the HIMSS Value Suite and Score on March 1st at 8:30 am PT at the Sands Expo Convention Center Sands Showroom. You'll learn how your organization can leverage HIMSS resources to support the optimization of your health IT investments.
#EmpowerHIT
This hashtag is for all of you interoperability-obsessed professionals who are always looking for greater efficiencies. These days, who isn't? You can follow the conversation on Twitter by clicking #EmpowerHIT or you can join these live events:
#Connect2Health
For those of you interested in the role of technology in the future of healthcare, you'll want to click on #Connect2Health. This topic will focus on the role of social, mobile, devices, wireless, and wearables on an increasingly connected healthcare experience. Discussions will dive into telehealth, virtual care, mobile NICU programs, and connected hospitals. One of the big themes will be care anytime, anywhere and the issues associated with adopting anytime, anywhere healthcare technologies.
#Aim2Innovate
HIMMS is always about the latest innovations. #Aim2Innovate conversations will tackle how process improvement and technology innovation result in improved clinical outcomes. Topics for the week will focus on how to maintain innovation in highly regulated environments, EHR optimization, EMR surveillance, and using solutions to improve physician efficiency and patient care. There's also bound to be some Twitter conversations happening from 3D Printing Row, where exhibitors show off some of latest life-changing health technology innovations.
#RethinkRCM
The #RethinkRCM hashtag is about the business of healthcare and new payment models. A focus here, according to the Hashtag guide, is "optimizing care with the right people, policies, and technologies." If you're at the event, be sure to visit the Revenue Cycle Knowledge Center Booth for more information about payment systems and revenue cycle management.
#PutData2Work
What would a healthcare technology conference and exhibition be these days without a focus on data. You'll find plenty of data-driven conversations on Twitter by clicking #PutData2Work. If you're fascinated by data lakes, powering predictive analytics with big data, or turning your data into a strategic asset for better patient outcomes, then you'll want to be following along. If you're at the event, you'll want to check out the Clinical & Business Intelligence Knowledge Center, as well as events for predictive analytics, improved operating room patient flow using visual analytics, and leveraging EDW for information-driven decision making.
#HX360
The conversations around #HX360 are about some of the biggest challenges hospitals face today. The conversations around this topic focus on advancing a new model of care. Perspectives of executives and innovation leaders will be touted. Some of the most innovative companies and newest technologies will be discussed and demoed online. Check out hx360.org for more on this topic.
#HITventure
This hashtag is about how collaboration results in better technology-enabled solutions. These conversations will highlight collaborations between entrepreneurs, investors, and providers, as well as how those collaborations often meet clinical needs. Learn more by visiting the Entrepreneurship and Venture Investment portion of the conference website or see live tweets on the topic by clicking #HITventure.
#IHeartHIT
This hashtag is for social engagement around real human stories. Users are encouraged to "highlight meaningful stories that illustrate human outcomes for health IT end users." Participants can share their story by adding the hashtag or read the stories of others by clicking #IHeartHIT. There's also a great collection of #IHeartHIT stories at www.healthitweek.org/IHeartHit
Putting HIMSS Hashtags to Work for You
Each of the hashtags listed above represents a conversation on Twitter that your potential partners and customers are having. Tapping into the meaning can help you understand their motivations and topics of expertise. So click through and start reading some of the conversations.
Join in on the conversation and use related hashtags to generate greater visibility before and after HIMSS.
Follow users who are discussing pain points related to your solutions or areas of interest.
Build Twitter lists of users based on hashtags or other topics.
Use a social media monitoring tool to make this easier. Here are some free ones that HIMSS recommends.
Build ad campaigns on Twitter that target people tweeting about the topics related to your services and solutions.
I'll be at HIMSS16 in Las Vegas from Wednesday of this week through Friday meeting with TSL's medtech and medical device clients. Feel free to reach out to me at cmalcomson@tslmarketing.com to set up a meeting or hit me up on Twitter @ChuckMalcomson.