My Top 3 Takeaways
Bingeable Content, Optimized Websites, and Empathy in Marketing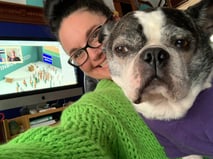 My experience at INBOUND 2020 was all about how to make your website a better representation of your company and brand during a time of social and economic disruption. In a time when face-to-face meetings are out and virtual meetings are in, we are relying on our website and digital communications now more than ever to make the best impression on and connect with our audience.
Takeaway #1
Give the People What

T

hey

Want:

Useful

Content

We

Actually Want to Read!
My top takeaway from INBOUND 2020? Create the best possible digital brand experience for your company by giving the people what they want!
🍩 Donuts? Always.
🍿 Bingeable Netflix shows they haven't watched? Definitely!
💡 Website content that is awesome, helpful, and meaningful? C'mon Down!
After attending (ok, or partially attending) 18 Breakout Sessions, Meetups, and Spotlights, something I heard repeated throughout the event was the critical need to focus your marketing efforts on creating high-quality website content that answers your audience's questions. Luke Summerfield from HubSpot was one of the marketing experts who discussed this point in his session, "Using Your Website to Grow Your Business."
The experts at INBOUND 2020 and at TSL alike agree that your website priorities should be:
Quality content over technical optimization

Quality content over quantity of content: one

rock-

solid p

illar

page vs

.

10

mediocre

pages

Quality content over making your website look gorgeous (

which admittedly is difficult for design-minded marketers

)



Why Is Content So

Important?
Content Marketing in the New Normal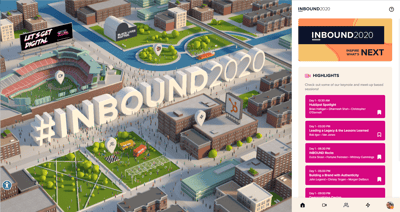 The rationale for such a strong campaign for content rings especially true in our current virtual business world. Because we are unable to connect physically with customers, companies must now produce website content that answers customer questions on your behalf, taking the place of in-person interactions.
Of course, we are up against new challenges as disruption continues to occur in the 'old normal' buyer's journey. Customers are becoming more sophisticated in their searches, and they want answers to their questions. They are using search engines to find these answers before reaching out for that first conversation with your sales rep, determined to become armed with as much knowledge as possible.
Dale Bertrand discussed in his breakout session, "The End of Technical SEO: How Google's AI forces SEO Strategies to be More Human," that it's critical to focus on optimizing for humans, not organizations, in order to improve website visibility via search results.
Your content can start to build a conversation in your community. Focus on:
Current customer

challenges and pain points

Compelling use cases and

success stories

Solution-focused pieces that solve problems and answer questions
Creating customer-centric content for each pain point takes time. Don't try to create an entire resource library in one day/week/month! If you don't have sufficient internal resources for this long-term strategy, there are B2B content marketing agencies and other resources available.
T

aking

a Human Approach
Buyers want you to earn their trust. Align that new, awesome content with your company values. By living up to the core values you represent, you form an authentic connection between your audience and your brand. If your content starts to become too product/service-focused or geared toward technical optimization, take a step back and remind your team (and yourself) that a human approach to creating content and optimizing for users' search results starts with empathy, not with industry keywords and buzzwords.
Research and understand your customers' pain points, world view, and what is important to them. Think buyer persona. Take it a step further though, and really dig into those individuals' pain points in this current environment to understand what questions your customers want answers to.
Marcus Sheridan shared with us in his session "7 Steps to Content that Sells" that if you can create content that answers questions in a purposeful way, audiences will engage with that content as they build trust in your brand.
A few ideas to increase audience engagement with your website content include:
Create a

learning center

on your website

offering gated and ungated content such as

eBooks, blogs, vlogs, guides,

case studies,

FAQ

s

, articles, checklists,

and

other educational content

.

Becom

e

the

go-to online resource

of your space for facts and answers

.

Create buyer personas to use as the foundation for

building

your content to ensure you are truly seeing things through your customers' eyes

.
Complete the content circle by engaging your sales team as part of the process. They are true SMEs on the customer-facing front and can provide valuable insights that will also offer a fresh perspective on any topic you may be researching. Including your sales team in the content creation process allows them to feel heard, resulting in content that they find genuinely useful and that they are proud to share with prospects and customers. You may even be so lucky to have your sales reps author content!
Takeaway #2
Customers Expect an Optimized Website
Another key takeaway from across the sessions at INBOUND 2020 was the importance on giving today's increased virtual traffic an easy and effortless experience on your website. Your customers, prospects, job applicants, and partners visit your website with the expectation that it will be easy to navigate and present the information they need quickly. Anything less can cause frustration, possibly diminishing trust in your brand if they have a negative experience on your website. Lukas Pleva, Product Manager at HubSpot, provided actionable tips and tricks in his session, "How to Optimize your Website Like a Pro."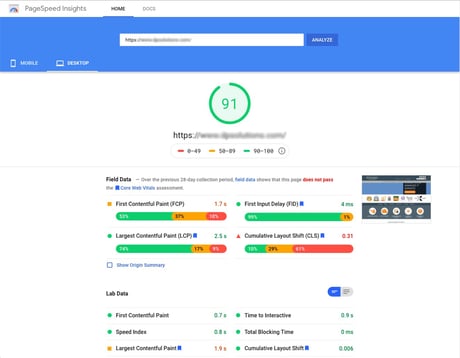 Statistics show that 47% of website users expect a web page to load in 2 seconds or less.¹ Free tools like PageSpeed Insights show how fast your site is today.
Having a website that is functional and easy to use builds trust (albeit subconsciously) in your brand. Visitors will know that your website is a place that they want to return to, not a place where they experience friction and frustration. The last thing you want is a potential customer bouncing from your website because it was troublesome to use on, say, their new iPhone.
These are a few things your customers expect your website to be:
Fast and responsive on all devices

Secur

e,

using an up-to-date SSL Certificate to keep user data safe

Optimized for SEO and

h

umans

alike
You can check the health of your website with free online tools. Our B2B marketing team recommends Google's PageSpeed Insights. Simply paste in the URL of whichever page you wish to check and let the tool go to work. It will deliver a report letting you know how your page is performing and ways to make it better.
There are ways to go deeper too. If you want to really dig in for analytics specific to your website users, there are numerous website assessments available that can shed light on needed improvements and give recommendations.
It can be overwhelming to think of the long list of to-dos that come along with setting up (or fixing up) your website and social media accounts. Just take it step by step — taking small actions toward your goal is better than doing nothing and waiting for the 'perfect time.' Trust us, that perfect time doesn't exist.
---
The Art of Persuasion:
How to Get Your Marketing

Budget

Approved

If you need a little help learning how to get your marketing budget approved, check out our free guide on how to do just that!

Click the image for access!
---
Takeaway #3
Empathy and Understanding

Needs to be

Our New Normal
My third takeaway from INBOUND 2020 is a little less technical but just as important. It's about the idea that our 'new normal' brings with it so many reasons to be hopeful and optimistic for the future.
From a marketing perspective, this year has taught us that the companies (and people) that are most successful in our world are the forward-thinking ones who are ready to innovate, evolve, and change with the world. This concept is actually very relevant, in many ways, outside of our marketing bubble, as we've seen so much of our lives change in small and grand ways, for better and for worse, over the course of 2020.
Dharmesh Shah and Brian Halligan talked with us at INBOUND 2020 about how being aware of the changes and adaptations in buyer behavior will be what helps companies thrive in the new normal. These companies — the ones that lean into change — will have the edge over companies hanging onto the past, waiting for things to return to 'the way things were.'
Experiencing 2020 from a business perspective, as well as from a human perspective, has certainly shown us more than ever that empathy and understanding go a long way in building trust.
Let's Get Digital!
Speaking of awesome content, check out TSL's retro-fabulous INBOUND microsite, chock full of digital marketing and sales-focused resources straight from our subject matter experts. There are tip videos, blogs, and more.
Plus, it's just a really fun site that doesn't take itself too seriously 👾
Tags: SEO, content marketing, Buyer Personas, buyer's journey, Website Optimization, Content Strategy, Digital Strategy, HubSpot, HubSpot CMS, INBOUND, digital events, B2B content marketing, audience engagement