In my last blog post, I explored what it means to be a Power User and how mastering your platform leads to exponential growth, organization-wide successes, and customer relationship wins. This time around, we will drill down a bit further and talk about making that knowledge into an actionable and winning sales process through the analogy of MMA.
A Commitment to Mastery
MMA? You mean like… fighting? Hmm. Whatever you say, crazy person!
I want to start with a fun, personal fact about me that will help frame the context of this article. Many years ago, before I was a passionate and successful Growth Expert with TSL Marketing, I was a professional combat sports athlete. I began boxing at a young age and, living in Colorado Springs, had the good fortune of being schooled in the sweet science at the US Olympic Training Center.
It was here that I learned the value of refining my learning process through a proven methodology, strategy, and my own commitment to mastery. I competed in and won my regional Golden Gloves tournament twice, leading me to pursue a career in fighting. I traveled to Thailand to learn the art of Muay Thai. I began wrestling and learning Jiu-Jitsu, and soon after, I went pro. My career was short lived for many reasons, and I will spare you both the high and low lights, but the lessons I learned form my professional methodology to this day: prepare correctly, study your opponent, understand the mental game, and victory begins to become expected and unsurprising.
Adapting Techniques to Embrace Change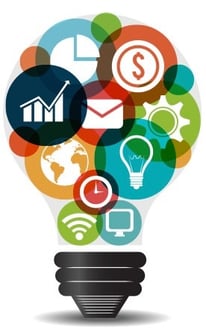 Ok, great…but what does this have to do with my sales process? Why are you telling me this?
A fair question and one I am glad you are interested in exploring.
To the casual observer, Mixed Martial Arts appears to be a brutal, barbaric, and mindless spectacle. A common misconception. When I say "professional fighter," most people picture a heavily muscled, aggressive, and short-sighted individual with anger management issues. However, if we look a little closer, what we find are some of the most intelligent, kind, skilled, hard-working, well-prepared, patient, and self-aware athletes and coaches on the planet.
These are brilliant strategists with an understanding of human psychology and conflict resolution far beyond that of the average person. MMA is often described by those in the game as "high-level problem-solving with dire physical consequences." This is an accurate summary, and one we can easily apply to sales simply by replacing the word "physical" with "fiscal" (see what I did there? 😉).
Let's look at sales from an outside perspective as well. When I say "salesman," that same kind of archetype begins to develop in your mind. You know the one: a beady-eyed and scattered person in a hurry, wrapped up in a cheap suit. The stereotypical car salesman or telemarketer. Brute force and aggression are the tools of their trade as well. Yet, if you are a sales professional who is good at your job and humble enough to acknowledge your skill gaps, adapt to, and embrace industry changes and advantages, then you know that there is much more to the sales professional than that.
Customizing Tools for Execution
Preparation and strategy are the name of the game here. Many casual fans are not aware that professional MMA fighters consider fight night the easy part. It is the big pay-off for hours and hours of repetition, hard work, weight cutting, and suffering, much like how we as sales professionals see the day of receiving that signed contract as the easy part! We know what went into the sales process and we know the hard work it took to get that signature.
If we are doing our job right, we are nurturing, building trust, tailoring our communications, and gathering intelligence to win the day. These athletes do much of the same. They focus on strength and conditioning, technique, reaction, muscle memory, nutrition, recovery (and so much more) and they do so under the most intense of circumstances. Tired, simulated crowd noise, hungry, injured and more, they prepare day in and day out, all year long. As they sharpen their technique and ability to perform under duress, they become the masters of their platforms. In other words — Power Users.
What I am getting at is this. Sure, you can attempt to sell a product or service with brute force. Sure, you can use the "old industry standard" and you can "make it work." I mean, how many times have you heard a prospect or customer say, "Well, it does what we need it to do, so we don't need to change!"? You can pound the phones, crank out the emails, go for quantity over quality, etc. and hope for the best. Good luck!
Or, you can master your platform and become a power user, clean out your toolbox, and maximize the functionality of your tools. You can build a customized, closed-loop, consultative and business-intelligence-driven strategy like we do at TSL Marketing and you WILL be victorious. But to do this, you need the right platform and the right approach. Your organization might be big, strong, and powerful, but to compete at the highest level, it must also be adaptive, efficient, refined, and in tune to the needs of the customer.
Precision Beats Power; Timing Beats Speed
Let's take it one step further with a full-on analogy.
Picture this: It's fight night (time to close the big deal). In the red corner, we have a competitor who lifts heavy weights, hits hard, and moves forward aggressively: a well-known brute force player with a big presence, all mean faces and muscles. In the blue corner, we have a calm, well-schooled strategist who fights patiently and waits for his openings — a thought leader amongst peers and loved by his fans (aka, customers).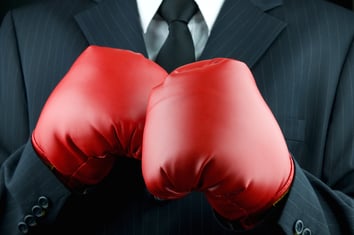 Ding ding! Round one. Our big brute comes forward, swinging wildly. Our strategist expected nothing less and, after gathering hours of pattern recognition and breaking it down to develop a tailored approach with his team (platform), knows that our big brute likes to drop his left hand when he steps in with his right. Our strategist starts downloading movement patterns and begins to fake and feint, thus manipulating the rhythm of our big brute. Our strategist draws out the big right hand on his terms. Calmly, and with graceful subtlety, he slides his back-foot inches to his right, dips his head while keeping his eyes on target, loads his hips, shifts his weight and fires. Using his refined platform mastery and flawless technique, he is never out of position. What results is a clean and precise connection. Victory. The contest is over before it began. Strategy prevails.
Scoring the Win
Be the strategist, not the brute. HubSpot is my "coach." A good coach is cerebral, offers you the tools and assets to succeed, and keeps you on track leading up to the contest. Having become a Power User, I am able to drive my wins through a consultative and tailored approach using dynamic content, functional lead nurturing tools, and SO MUCH more to create a better experience for my customers. HubSpot means I am better at my job and my customer relationships are stronger. It also means I am efficient and able to iterate my process. Each day brings refinement, testing, implementation, and customization meant solely to achieve the goal of making my customers happy. A winning strategy that means my hand will be raised as the victor.
Be the strategist, not the brute, my friends.
Tags: B2B Marketing, Marketing Automation, Inbound Marketing, HubSpot, marketing software, HubSpot agency, client management, sales automation, HubSpot Power User, Closed loop efficiency, sales strategy