To develop a successful overall LinkedIn ad strategy, managed service providers (MSPs) must determine when to use paid social, paid search, and remarketing. Paid social is effective when the MSP has a well-defined audience to which it wants to advertise. As an MSP segments its audience, it is able to put its message in front of that audience either once or in an ongoing manner.
MSPs can build market awareness in targeted audiences. As the company advertises, it needs to make sure it doesn't just focus on the immediate lead capture. The MSP should also capture information from prospects who aren't ready to buy today, so that the prospect can be placed in a long-term nurture stream.
Here's an overview of some LinkedIn ad best practices for MSPs that have been gathered from TSL Marketing's over 20 years of experience working in B2B marketing.
Getting Started With Paid Social
In the first stage of paid social, it's important to identify your audience. Many times, clients will come to us with a piece of content they've created for everyone and anyone and want it promoted on LinkedIn. It can be tough to tell them that their generic content will get generic results.
It's better to start off the content creation process by thinking about the audience you want to get in front of and the social media platform where you're getting in front of them. Then you can start thinking about the messages that are going to appeal to them.
Don't try to build one-size-fits all content. Really try to build content that's focused on the persona.
To get a more detailed picture of the persona, try to find those segments of the audience with whom that message is going to resonate directly on LinkedIn.
Use multiple pieces of content, multiple offers, multiple ads variations, for the different segments of the audience.
LinkedIn Targeting Tips
A big factor that differentiates LinkedIn from other social media platforms is its ability to target audiences by their professional data. LinkedIn equips you with an arsenal of hundreds of different targeting combinations that appear in a LinkedIn member's profile. When you're building out your segments, think of what type of customers have bought from you in the past. With LinkedIn, you can use a mix of demographics and firmographics to target at the company and contact level.
Disaggregate this information in terms of their title, locations, industries, experiences they have had, and what skills they have on LinkedIn. Then consider this in terms of who is a decision maker or influencer. You can target several segments, as shown in the table below.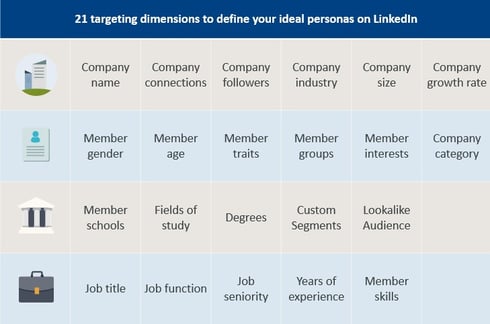 LinkedIn is not necessarily a transactional platform. Only 5% of the market is ready to purchase. 95% of B2B buyers are out there looking, educating themselves, and talking to others in the market about what to buy. If your product has a 6 to 12-month sales cycle, think about where you want to be 12 months down the line on LinkedIn. Start nurturing those individuals now so you can get them to a point mid-funnel or bottom funnel where they are going to be making that purchase.
---

"If you can think of it, you can target it on LinkedIn."

---
ABM & List Targeting on LinkedIn
LinkedIn also gives you the ability to target members based off of a filter against lists loaded into the system. These can be lists of companies and/or lists of emails. Remember that this method can be limiting since you need to filter your ad targeting to get at least 300 LinkedIn members in your targeting audience.
Ad Types & Creation
As we uncover who we are targeting, we want to create ads that are specific to their personas. Images are important, as is being clear and concise on messaging. You need images that will appeal to the persona enough to make people stop scrolling and read. Be conscious about your copy and CTA button. Use all these elements to explain what is there and what's in it for them and make it all cohesive.
LinkedIn Ad Types
There are a variety of ad types on LinkedIn to choose from and they all require different types of ad creative:
Single Image Ads
Carousel Ads
Video Ads
Text Ads
Dynamic Ads
Message Ads
These ads may be useful for different stages in the funnel (see table below). However, you can really use sponsored content for any stage of the funnel. You can take a video ad and run a lead generation form off it or run branding off it. You could run a single image ad or a conversation ad within LinkedIn for a bottom-of-the funnel campaign.
In the setup process, LinkedIn will guide you through this with their objective-based setup. You'll choose objective, ad format, and audience in the initial setup.
Selecting the Lead Generation objective means that instead of driving people off of LinkedIn and to your landing page, that you'll instead use a LinkedIn Lead Gen Form to attempt to capture their contact information without them needing to leave LinkedIn. It means that your target audience just needs to click on one button in a form and all the information from their LinkedIn profile goes into pre-filled fields (these fields are selected by you in the lead form setup process).
Content Tip #1 - Aligning Your Content and Offers with Your Audience
You want to align content with the type of people you are trying to reach so you are speaking directly to your audience. This could be by job title or industry or level of seniority and job function.
Content Tip #2 - Awareness Advertising Helps You Become Recognized, Known, and Trusted
For MSPs, it's particularly important to make sure you are recognized and trusted by your audience so when prospects are looking for an MSP, they know who you are. This can be accomplished by brand advertising over time. Consider follower ads or the promotion of thought leadership pieces and customer stories.
Content Tip #3 - Most of Your Audience Is Not in an Immediate Buying Cycle
Think about your audience. A lot of them are under contract with MSPs or have in-house IT staffs that handle day-to-day IT needs. Even the ones who ARE in market aren't on LinkedIn shopping for an MSP.
You can use advertising to go on a fishing expedition with bottom-of-funnel offers for the ones who are buying today, but you should expect it to pull in less of a volume of engagement than persona-focused thought leadership (and it will cost a lot more to get conversions).
Content Tip #4 - Costs of Finding People Who Are Actively Buying Can Get Expensive
When MSPs move away from persona-focused content to assessments, whiteboard sessions, and POCs, you can go from conversion costs in the $50, $100, $500 range to conversion costs in the $1000, $5000+ range.
Content Tip #5 - Content That Has Performed Well Organically Can Be Boosted with Paid Ads
Try combining organic social with paid social. You can test responses to organic social to help guide your paid efforts. Rather than testing out something first with a paid strategy, take something that has done well organically and promote it to your best-fit audience.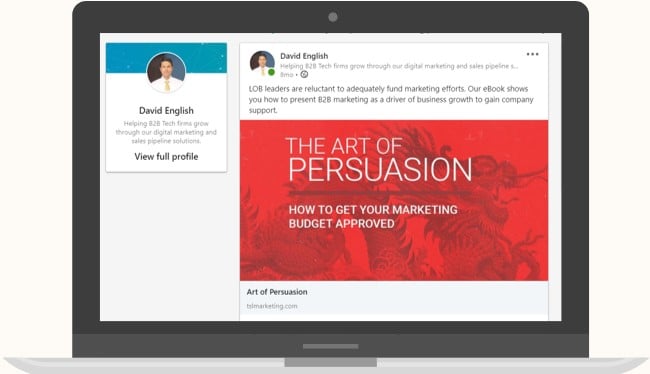 LinkedIn Ad Performance Metrics
With lead generation and conversion campaigns, you're typically going to want to have a good feel for click costs, click-through rates, conversion rates, and cost-per-conversion. We pay attention to performance stats and also the offline stats on the follow-up. What percentage of conversions went to a sales call? How much spend did it take to produce one sales call?
When you're trying to raise awareness of your company, you have many other engagement stats to look at. Here's a look at a few:
Engagement Rate

Social Actions

Likes

Comments

Follows

Video Views (and time associated with the view session)
We also look at how LinkedIn ads affected branded search. We know that when a company advertises heavily on LinkedIn — especially companies who haven't done a lot of advertising or awareness marketing in the past — that they'll often be able to see an increase in search engine queries for their company name.
You're not always going to have the best content or creative, but learn from what you do in the market today so you can replicate those best practices in the future. This means understanding goals and benchmarks for advertising and trying to establish your own goals and benchmarks. This way, you can test which content/offer/audience-segment combinations are working and which are not.
To optimize performance, we use 3 levers:
Targeting

Bids and budget

Content and landing pages
When you're analyzing by offer/content/segment, you'll be able to see how much it costs to get in front of a person in your audience and what returns we are getting from it.
Questions to ask:
Can we rebalance the budget based on what we see from a performance standpoint?

When we're using an ad to drive someone to a page, what is happening when they get there?

What are we measuring?

Are ads or offer variations in the same audience yielding different results?

Are different audience segments yielding different results?

Are potential high costs for a certain audience segment justified based on how much you value engagement from that segment?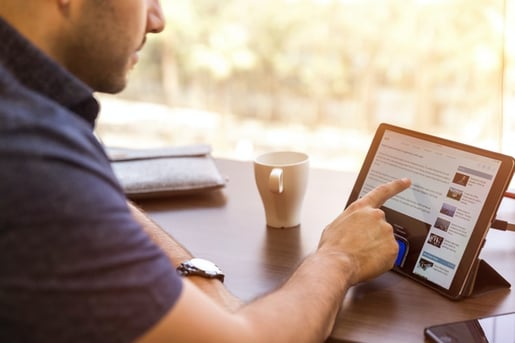 The Value of Awareness Marketing with LinkedIn Ads
Measuring awareness value and brand equity can be challenging to quantify, even for large companies. The bottom line here for us is two big aspects:
1. Brand Drives Demand - when people know who you are and what you do, they will seek you out when they need the 'what you do' part.
2. People don't buy from people who they don't know - If a company needs three bids for an MSP and one of the MSPs is an established and well-regarded entity and the other is not, then they're likely going to purchase from the known organization.
Deciding how much being known is worth can be a challenge, but over time, being recognized and known can help increase brand search, increase landing page conversion rates, and decrease your overall cost of sale as prospects move through the funnel more quickly and close at higher rates. Reach and frequency is key to being known. LinkedIn Ads allow your reach and frequency to be in front of EXACTLY the audience that you want your business in front of.
---

"LinkedIn is a living, breathing billboard for your brand."

---
I've got LinkedIn Leads ... Now What?
A lot of companies don't have a good nurture stream. They expect to take someone who responds to a piece of content and throw them over to sales. That tends not to get followed up on. Many sales reps are focused on the current quarter and not someone who might be buying in 6 to 12 months.
Having nurture streams that are handled by a sales rep, automation, or a third party are extremely important. We like to qualify prospects. If prospects aren't buying today, that's okay. Who are they using as an MSP and what is their renewal cycle? How happy are they with who they're working with? How affordable is their in-house staff? Could their in-house IT team be doing things to drive more value for the business? Answers to these questions can help you in your future marketing and sales prospecting.
Becoming Recognized, Known & Trusted Through LinkedIn
By using LinkedIn Ads, MSPs can build brand awareness and find long-term prospects to nurture into leads. While expensive compared to other social media advertising, LinkedIn allows precision professional targeting that allows your ads to get in front of your exact prospect audience.
Tags: Lead Generation, LinkedIn, social media marketing, LinkedIn advertising, Managed Service Providers, MSP, LinkedIn marketing