I've compiled some quotes from some of the greatest NFL coaches of all time to help inspire your lead-progression tactics.
Planning Early for End-of-Quarter or End-of-Year Progression Tactics
Companies that have built proper lead-progression programs understand the groundwork that needs to be laid down to achieve consistent success. They also know that these plans have to be laid out in advance.
Don't get caught trying to devise a plan on the fly.
If you don't have a plan already, work with your team to come up with one now.
Having trouble getting started?
Let's start with a reminder from my favorite coach of all time, Joe Gibbs.
B2B Lead Progression Takes Persistence and Preparation
"A winning effort begins with preparation." –Coach Joe Gibbs
Lead progression, like winning football games, is a matter of preparation and persistence. A good plan provides you with a path toward success. Stick with that plan and you'll start to see your team progressing sales leads into pipeline opportunities.
To help you create your own plan for successful lead progression, take a look at our 10 plays that will help you score.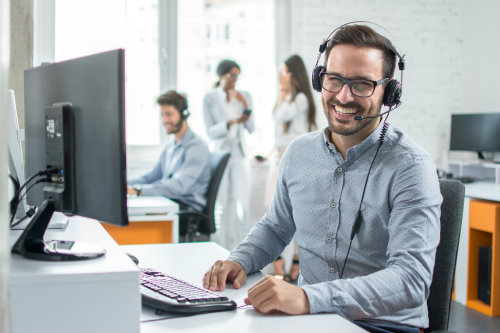 Play #1
Budgeting for Lead Progression
"The start is what stops most people." –Coach Don Shula
Sales and marketing departments spend a large chunk of their budgets on trying to get that initial lead, but they spend much less when it comes to lead nurturing and lead progression.
As you start to build out your future marketing budgets, remember to set aside some funds to make sure that no lead gets left behind.
Play #2
Be Persistent With Your Stalled Leads
"Winning is habit. Unfortunately, so is losing." –Coach Vince Lombardi
According to a post in the B2B Lead Roundtable Blog, as little as 5% to 15% of all leads turn out to be sales-ready opportunities. Because there are so few sales-ready leads, it's important to devote special effort to uncovering their potential.
Yes, some of them won't pan out, but don't sell your early-stage leads short. While your prospects may not initially present themselves as sales-ready, with some time and attention they may convert into opportunities.
Make a practice of putting consistent and timely follow-up into your leads. If you fall out of this practice, you'll lose more of these leads than you'll win. Winning will become a habit with persistent follow-up methods.
Play #3
Pick Up the Phone to Get Back in Touch With Stalled Leads
"You don't win with X's and O's. What you win with is people." –Coach Joe Gibbs
While some marketing companies insist on using automated systems to send scheduled emails, the human touch is still important in marketing. The phone is the best way to qualify leads, because a good conversation engages the prospect.
Automated outreach can give your prospect more information, but it can't gauge interest or overcome sales objections like a salesperson can. Make sure that you have someone devoted to lead progression who understands how to use the phone to progress leads.
Play #4
Set Follow-up Expectations Early and Build a Relationship
"Concentrate on what will produce results rather than on the results, the process rather than the prize." –Coach Bill Walsh
One of the biggest parts of your process that can't be ignored is how you handle follow-up into early-stage leads. These prospects may be less willing to give information than later-stage leads.
In our work with technology marketing, we qualify leads based on prospects' IT environment and possible upcoming projects. The qualification process is important to any lead-generation effort. However, if prospects don't want to give out those details, it becomes difficult to qualify them.
Remember, with so many leads coming from digital marketing, that first call may be the first time the prospect has talked to a person at your organization. Make sure that your lead progression is handled by someone who is good at breaking the ice and understands that this is a relationship-building process.
If they're too focused on closing the deal, they may lose prospects who aren't quite ready to buy.
Play #5
Employ a Lead-Progression Specialist
"People who work together will win, whether it be against complex football defenses or the problems of modern society." –Coach Vince Lombardi
Our teams of lead progression and pipeline progression specialists get questions all the time about how the client they're representing stacks up against the competition. Good lead nurturers know this kind of information well and use it to convert leads to opportunities.
It's important to have someone who has the talent to make a great first impression and the knowledge to provide the prospect with valuable information. Having someone who can properly qualify and categorize your leads helps increase the efficiency of your future engagement efforts.
Play #6
Have a Great Pipeline Management System
"If winning isn't everything, why do they keep score?" –Coach Vince Lombardi
A team that can qualify and categorize leads is critical. Your marketing and sales teams need to have the situational awareness of a star player.
Put a system in place that helps you keep detailed records. Good record-keeping lets you know where the prospect is in your sales pipeline. Having a great system doesn't mean automatic success though.
There is no marketing automation silver bullet, and any great system is only as good as the people using it. To better determine which actions should be taken with a given opportunity, your team has to be able to properly identify and record information about your leads.
They must also take detailed notes on interactions with these leads. This not only enhances lead management but also allows your team to better understand where to budget its lead-progression time and efforts.
Play #7
Lead Nurturing
"Obstacles are what you see when you take your eyes off of the goal." –Coach Vince Lombardi
Good lead nurturing is like a quarterback reading the defense and calling an audible based on the coverage. If prospects seem on the verge of saying yes based on their qualification and categorization, lead nurturing could help push them over the goal line. Some prospects aren't yet ready to take the next step though.
Lead nurturing will provide prospects with supporting content and information needed to aid their final decision. It will also help keep your organization front of mind, so when they're moving deeper into the buyer's journey, they'll consider you.
Make sure you have built proper lead-nurturing content to support prospects at various stages of your sales cycle.
Play #8
Building B2B Content
"Setting a goal is not the main thing. It is deciding how you will go about achieving it and staying with that plan." –Coach Tom Landry
When valuable phone or in-person engagements occur, it's important to have the right kind of B2B content to distribute to your prospects. After all, what good is a piece of content if it doesn't directly relate to prospects' needs?
Your content should consider where they are in the buyer's journey and what their role is. Do you have industry- or persona-focused content for specific stages of the buyer's journey? The more catered your B2B content is to prospects' place in the buyer's journey, the more likely they are to engage with that content.
Don't let your content creation efforts fall short. Building digital content that gets prospects' attention can keep your leads from getting stopped at the 1-yard line.
Play #9
Human Follow-up and Follow-through
"Nobody in the game of football should be called a genius. A genius is somebody like Norman Einstein." –Joe Theismann
It doesn't take a genius to acknowledge that it may take many tries to get in touch with prospects. Let's face it—they aren't sitting by the phone waiting for sales calls. Even the most interested prospect has a job to do.
Our teams make multiple attempts to make contact with leads. When they eventually get in touch with a prospect, many times the prospect isn't ready to have a more formal discussion. It will usually take a few conversations before the lead is ready to progress through your sales pipeline.
Regular follow-up is important for developing a relationship with the prospect. Since that very first conversation is usually not going to turn into a sale, it's important to prepare your next conversation. Setting up a formal follow-up date and time is ideal. At the very least, your sales team members should be setting up reminders to follow up later.
Don't forget about initial follow-ups into prospects who are engaging with your content or filling out lead forms. These often get lost in the shuffle unless the prospect has shown some sort of buying intent.
Remember to follow these rules when following up with inbound leads or recent reconversions:
Know how they came to your site or what they downloaded.
Don't follow up immediately. Give them a bit of time to process the information.
Follow up soon enough that their last engagement with your brand is fresh in their minds.
Play #10
Overcoming Objections and Qualifying Leads
"If you want to win, do the ordinary things better than anyone else does them day in and day out." –Coach Chuck Noll
Objection Handling
Your team MUST be good at overcoming objections. Lead qualifying means dealing with objections on a regular basis. Lead-progression pros know this and hone their skills day in and day out.
Their day-to-day experiences help them learn how to handle a multitude of objections. If prospects are hesitating at any point in the sales process, great objection handling will bring their concerns to light and address them head-on.
Lead Qualification
When team members are engaged in a discussion with a prospect, they should always be looking to get your company's basic lead-qualifying criteria answered. Even if prospects are interested, you still need to determine if they are a good fit for your business.
To be a sales-ready lead, they must have a clearly defined need or pain point. Fully qualified leads will have supplied BANTE criteria:
Budget
How much money do they plan to spend?
Authority
Who is invested in the decision, and who is ultimately making the decision?
Need
What problems are they facing that we can provide solutions for?
Time Frame
When will they be evaluating vendors? When do they plan on doing the work?
Environment
What type of infrastructure do they have in place?
Learning the BANTE criteria will ensure that the sales team knows everything it needs to know to prepare for a meeting with the prospect.
Proper Planning Prevents Poor Performance
We hear a lot of quips and quotes from football coaches about persistence and preparation. If you want to be great at lead progression, these qualities are essential. If you follow just a few of these progression play tips when crafting your lead-progression plans, you'll start to build the foundation for a system that will bring leads through your sales pipeline faster and produce more win revenue.
Ready to start talking about lead progression? Connect with me on LinkedIn so we can start a conversation about your lead-nurturing plan. You can also follow TSL for more tips and insights on modern marketing best practices.
Tags: Lead Generation, lead progression, lead nurturing, lead qualification