In the event-planning world, what goes on behind the scenes isn't usually noticeable to attendees. What appears to be seamless is the result of months, sometimes years, of preparation and hard work that can ultimately pay off with brand recognition and revenue.

But what if you need to pivot in the middle of your planning process because of an unexpected event like, say…a global pandemic?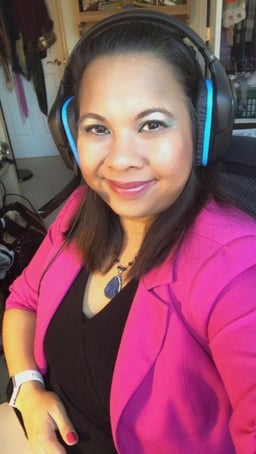 This was a decision the INBOUND 2020 team made for its annual conference, which normally takes place in the Boston Convention Center. In the middle of their planning, they decided to pivot and explore the quickly growing world of fully virtual events.
In my role as TSL's Agency Marketing Manager, I became the person responsible for project managing our sponsorship and participation in the event. How did I do it? What went well? What needs tweaking? What can we improve? Learn all this and more by reading my top tips from each phase of the event process. TSL Marketing, a HubSpot Platinum solutions partner of 10+ years, decided to sign on as a premium sponsor.
Pre-Event Tips
1. Make an Agile Plan
With a lot of moving pieces to get our sponsorship off the ground, we needed to have a solid plan, first and foremost. Fortunately, TSL already has strong project management processes in place where I could set up projects, milestones, and task lists that could easily determine who was available to handle deliverables and when.

As with any project, I started from the end goal (INBOUND 2020) and worked backwards. I determined how long tasks would take, while accounting for flexibility, wiggle room, and complete blockers (yay Agile method!) as much as possible. I also made sure to account for multiple rounds of feedback, as I needed to get buy-in and approval from executive leadership for anything that was created for our sponsorship, followed by a thorough quality assessment (QA) review. Internal meetings were also set up on a frequent and consistent basis to ensure everyone was on board and on the same page.

2. Formulate a Branding & Content Strategy
For a digital event, it's even more crucial that your branding and web presence is eye-catching and on point. Because attendees will be sitting at their computers vs. in the convention center, there will be more opportunities for them to check out your brand. Make sure your branding is cohesive and consistent across your website, and make updates as needed as you lead up to the event.

At TSL, we take a Growth-Driven Design approach — same as we do with all of our clients. We see our web presence as a continuous work in progress, whether we need to refine our messaging, our user experience (UX), or our creative. For INBOUND, we decided to create branding unique for the conference. Touting our "Let's Get Digital" tagline, we opted for a retro 80s-inspired theme to draw attendees to our microsite.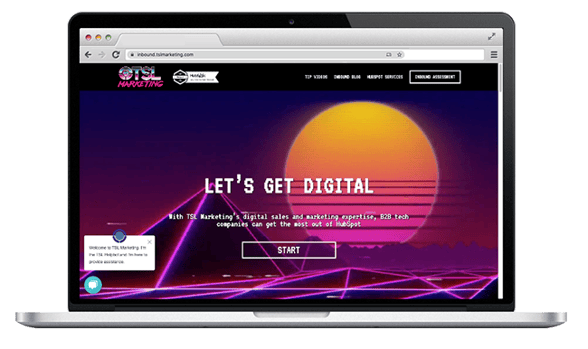 And because INBOUND 2020 showcases the latest HubSpot updates and hosts specific HubSpot sessions, we saw the event as a prime opportunity to demonstrate our agency's HubSpot expertise. We published a series of blog posts specific to HubSpot's Sales Hub, Marketing Hub, Service Hub, and CMS Hub to draw attention to our knowledge around these areas.

3. Prep Your Team as Much as Possible
With INBOUND 2020 taking place online for the first time ever in its existence, there were a lot of unknowns going into the event. However, I tried my best to prep the team as much as possible by incorporating the following:

group training sessions to give guidance on what to expect from our virtual exhibitor booth,

a slide deck that listed every single piece of helpful collateral, all in one place, and




real-time updates to the team on a consistent and ongoing basis.
These additional measures ensured that everyone was managing expectations as best as possible and were on the same page going into the event.
---

"The reality is that for many organizations (INBOUND 2020 team included) managing expectations is tricky because we don't fully know what to expect. With that said, it's imperative you and your team be willing to pivot as needed."

---
Day-of Event Tips
4. Set Up a Lead Gen Process & Pivot as Needed
With any fully digital event, there's a lot of ground to cover to make sure you're thoroughly represented. We had a lot of help with our sponsorship materials being broadcasted throughout INBOUND 2020, but we wanted to incorporate a human-touch element as well. So, we made sure we had ample coverage at our virtual booth, as well as at relevant sessions, to maximize the number of opportunities we could chat with attendees about their pain points and experiences.

Keep in mind that digital events do not afford the luxury of hallway conversations and meeting folks in between sessions. We knew the team needed to be proactive in our approach to emulate these conversations as much as possible by sharing our relevant expertise — but only when it made sense. We worked hard to stay authentic to who we are and not appear contrived with our virtual interactions.

The reality is that for many organizations (INBOUND 2020 team included) managing expectations is tricky because we don't fully know what to expect. With that said, it's imperative you and your team be willing to pivot as needed.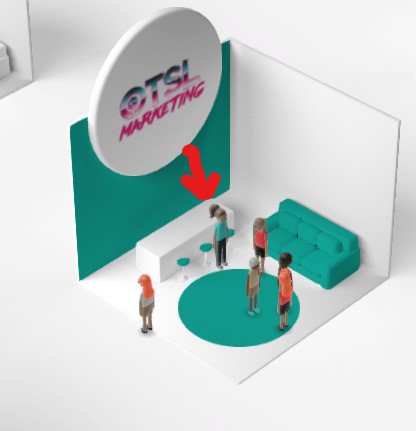 "Me" at our digital booth.
When traffic to our virtual booth was slower than we had originally anticipated, we changed course by setting up specific shifts for team members to station at the booth, while sending other team members out to the sessions to garner interest in the TSL brand. This helped us still maintain as much exposure as possible in well-trafficked areas throughout the conference.
5. Be Conversational & Fun on Social Media
Even though you may be posting about the event through your organization's official social media channels, folks understand that there's a human behind your posts. So have fun with it and make it your own! Stay on message and on brand, but add fun and engaging elements such as GIFs and emojis to get a conversation going. Reply to others and comment on your thoughts regarding specific sessions and/or speakers, and don't forget to use the event's official hashtag to spread your visibility even more. Take the time to look up specific handles so you can tag speakers, companies, and influencers in your posts — not only will you be recognized by that particular account, but also they may take the time to share your post, allowing your message to spread even further.

You can also promote your own thought leadership by sharing relevant webpages that relay your organization's expertise — but only if they are in alignment and don't feel so forced or salesy. As a HubSpot agency, our offerings tied in nicely with the different sessions at INBOUND, so we were able to share relevant posts easily without it feeling like we were trying too hard.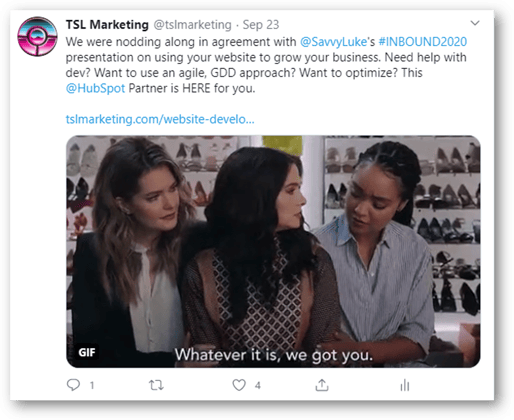 Post-Event Tips
6. Take Advantage of Tech to Report Results
To determine whether your event was a success, it helps to have structures in place to analyze the results of your efforts. Fortunately, with HubSpot's campaign analytics tool, we were able to see how our assets performed in an easy-to-use dashboard. We were also able to draw up reports that were easily shared with leadership, because everything was tagged with the proper campaign beforehand. You already worked so hard prepping for the event, why make it harder on yourself afterward when you're already suffering from post-event "hangover"?

7. Follow Up, Follow Up, Follow Up
Don't let those precious leads go to waste! Have a lead nurturing process ready to go with the help of sequences and workflows, and be sure your sales reps are tagging contacts with the proper lead status to move things along as efficiently as possible. Send updates to audiences with relevant content and upcoming events (such as webinars) to keep them engaged, and continue to keep tabs on your progress. Remind your team that you may not get many bites right out of the gate, but when it comes to the bigger picture, having a solid strategy in place will pay dividends.
8. Celebrate Your Victories…While Keeping Your Momentum
We made it! Despite having to create new digital assets that wouldn't have been necessary should the event be held in-person as planned, the TSL team spent 200+ hours collectively to submit everything on time and make an impressive showing at INBOUND 2020. We set up a virtual debrief session to thank all team members involved, presented the results of our efforts, and discussed what worked and what could be improved next time.

And we didn't stop there. We are now using what we've learned to continue iterating our web pages, streamline our processes, and enhance our reporting measures. We are working toward a 2021 content strategy to more effectively target our audiences and are investing in digital advertising to increase our growing brand awareness even more. In other words, we're already setting things in motion that will benefit us for the next digital event.

We can't wait to see how it will all pay off.
To learn more about our INBOUND 2020 offerings, check out our microsite.
Tags: SEO, Lead Generation, Event Marketing, advertising, project management, INBOUND 2020, digital events, virtual events, event strategy, Event planning, digital sponsorship, digital collaboration