How a $22B Technology Company Migrated from Marketo to HubSpot Marketing Hub Enterprise
Introduction
TSL Marketing, a B2B technology marketing agency and HubSpot platinum partner, was instrumental in migrating, onboarding, and training a global $22B technology company onto HubSpot Marketing Hub Enterprise.
While HubSpot is often touted as a marketing platform for small to medium-sized businesses, TSL's recent successful migration of a global $22B technology company from Marketo to HubSpot might have some rethinking this assumption. The reality is that there are no limits to this powerful platform and the size of the organization it can serve.
The global technology company in question has multiple divisions and had to consider how to migrate its businesses to an all-in-one platform, an offering Marketo does not provide. The company needed to choose a marketing platform of record that had enterprise-level capabilities and features for its ever-growing enterprise. HubSpot's ease of use and scalability were important factors in selecting HubSpot Marketing Hub Enterprise as their platform of record.
As a 10-year HubSpot partner and B2B technology marketing agency, TSL Marketing had the expertise necessary to help the global technology company establish HubSpot Marketing Hub Enterprise as their marketing platform of record for its businesses, divisions, and acquisitions.

Migration
The global technology company needed to transition away from its current marketing platform Marketo while maintaining the integrity of its marketing and customer data. The timeline was extremely tight considering that access to Marketo would be terminated within 90 days of transitioning to HubSpot.
Migration involved many data challenges. TSL provided strategic and deliberate recommendations about every decision during the setup and migration to HubSpot. We took the time to understand the company's goals and specific functions so that they could get the most out of their HubSpot Enterprise platform.
Our HubSpot expertise allowed us to drive the strategy behind the scenes to determine the appropriate setup of the platform, including customized preferences, contact and account properties, user access, and more.
As a Diamond HubSpot Solutions Partner, TSL had the know-how needed to leverage the custom functionalities and custom properties offered by the platform. The HubSpot platform provides the flexibility needed to meet the customer engagement needs of a large and diverse company.

The global technology company mostly migrated data, so TSL built everything else from the ground up. While the global technology company handled much of the purging, cleansing, and deduplication of data, TSL participated in conversations about strategy and data integrity. Based on what we learned, we determined the data strategy, set up the company's platform and portal, built their email and landing page templates, and created their nomenclature strategy.
Onboarding
During the initial HubSpot Onboarding Plan, TSL listened and learned about the needs of the customer so we could customize our approach to onboarding and training plans. We helped HubSpot's technical and Inbound consultants streamline the onboarding process. After three months, TSL took over as the single source of HubSpot guidance, which included consulting, strategy, building, and training.
The global technology company takes an account-based marketing approach, so TSL used HubSpot active lists (previously known as smart lists) and created 25 custom dashboards to provide insight into the acquired company's current prospects and customers. With HubSpot Marketing Hub Enterprise, the global technology company can focus on value rather than volume.
With HubSpot automation, TSL and the company's marketing team created hundreds of workflows to use for customer communications and relations.
A transactional email add-on provided the company with the ability to customize and prioritize delivery of customer emails. With the add-on, the company gained a dedicated IP address that it could use to send any emails related to essential business transactions. These transactional emails enable the company to build a strong relationship with customers.
Additionally, the company could segment contacts when sending out emails, via access views across all divisions and segments, using the customized reports and dashboards. TSL created more than 100 custom reports to give better insight into user and customer engagement.
TSL was able to streamline the onboarding process the global technology company will use to onboard future acquisitions to HubSpot Marketing Hub Enterprise. We showed that HubSpot's Marketing Hub Enterprise platform meets the challenges of a large and continuously growing company.
Training
Most of the marketing team at the global technology company didn't have experience with HubSpot. It required a customized training and enablement program for its 40-member marketing team.
TSL custom-designed and created a more than 25-page "Process Manual" for the organization's internal use. Once the company had been fully acquired, we went on to train and enable the marketing team by setting up practicums that they would need to pass in order to become certified to build content in HubSpot. These custom-created practicums tested the team on their understanding of the material that was taught during training.
Ongoing Support
TSL provides ongoing support and project management for both our work and for the global technology company's future acquisitions. Additionally, TSL serves as a consultant, providing web development work for setting up email and landing page templates and building custom pages and content.
TSL has weekly meetings and conversations with the Customer Engagement systems and marketing teams to ensure consistency and better understand the needs of the whole company. We also engage periodically with the heads of Marketing to provide executive-level strategy, updates, and progress reports.
The global technology company is in the process of integrating legacy data (several hundreds of thousands of contact and company records) from another multi-billion-dollar enterprise technology company it recently acquired. With the customized HubSpot Manual and Guide TSL created, the company will already have a streamlined process in place for onboarding and training.
Summary
By partnering with TSL, the global technology company found that HubSpot Marketing Hub Enterprise offers an attractive alternative to Marketo and other marketing platforms by providing comprehensive enterprise capabilities. HubSpot's ease of use, scalability, content partitioning, advanced team management and permissions, and ability to manage a large database are just a few of the benefits the platform offers enterprises. Additionally, TSL has proven that we have the experience and expertise to streamline the migration, onboarding, and training process, eliminating risk.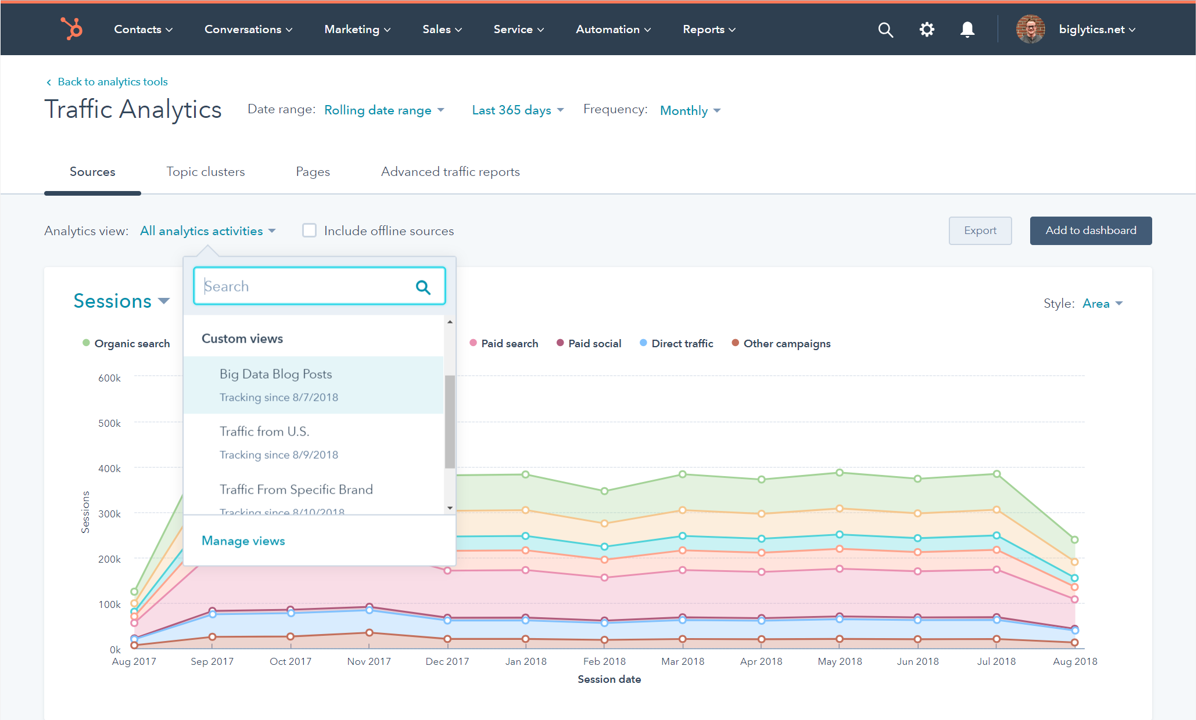 TSL was able to streamline and document the onboarding process to allow for the global technology company to onboard future acquisitions to HubSpot Marketing Hub Enterprise. We demonstrated that HubSpot's Marketing Hub Enterprise platform can easily serve a large ($22B/15K employees), complex (multiple business units) and growing global technology company (recently acquired a multi-billion-dollar enterprise technology business) by meeting their needs.
We look forward to offering our experience and expertise to other large technology companies that want to take advantage of HubSpot Marketing Hub Enterprise.
Find out how to optimize your company's marketing strategy. Take advantage of a complimentary Marketing Mix and ROI Analysis from TSL.
Tags: marketing platform, enterprise marketing, HubSpot Marketing Hub Enterprise, Marketo to HubSpot migration, HubSpot, HubSpot onboarding, HubSpot training