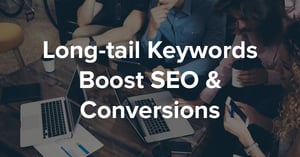 Users are asking more detailed questions during search, specifically to cut through all the chaos on the web and find what they're looking for quickly.
Give users exactly what they're craving — more precise answers to their complex questions — and raise your website to the top of search by using long-tail keywords.
Using this SEO optimization tactic can boost your organic traffic, increase conversions, and establish your company as a thought leader in your industry.
Long-tail Keywords Increase Organic Search Hits
Inquiries are rarely just a one-and-done, extending beyond just a single-word search. Today's technologically advanced and curious world of users are very detailed in their questions, often stringing together several commonly searched for words to get closer to the information they desire — and faster!
This is why voice search has grown as fast as it has, to about 50% of all search queries, reports TSL Marketing's Senior SEO Manager Shawn Rosko.
"In voice search, users are no longer using one or two words," Rosko said. "They're using phrases, and that's what makes long-tail keywords so important right now and for the foreseeable future."
Don't miss Rosko's EAT theory for optimizing B2B marketing content and SEO below!
Long-tail keywords increase the chance that B2B buyers will find the exact product/service they are looking for, and today's instant-gratification users know that.
Implementing long-tail keywords, Rosko said, is an easy, effective way to increase organic search hits to your website and please the King of Search (Google!).
Long-tail Keywords Boost Conversion Rates
B2B marketers can use this new thirst for intellect to their advantage by using long-tail keywords in their content marketing.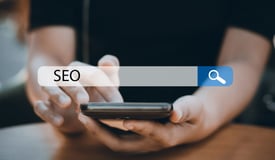 Long-tail keywords get less search traffic, but will typically have a higher conversion value. Inquiries that contain over four words usually represent a demographic more willing to convert.
"It's good to focus on creating long-tail keywords that are 3-6 words long," Rosko suggested.
Long-tail keywords solidify your conversion funnel through organic search traffic since they are targeting keywords used by visitors who are closer to a point-of-purchase.
Long-tail Keywords for SEO Optimization
Long-tail keywords help companies rank high in the SERPs (search engine results pages) for short-tail keywords.
Using long-tail keywords in your marketing content pulls double-duty, Rosko said, taking your B2B SEO game up a notch by stringing together multiple high-quality keywords to create a phrase. Additionally, he said, they add context to website content, and context is just as important as the keywords themselves.
For example, instead of just plain 'SEO,' try 'SEO on-page website optimization,' thereby targeting multiple short keywords for a greater reception.
In this instance, RankBrain – Google's AI algorithm that helps to determine the most relevant results to search engine queries – will interpret this as 6+ variations of relevant short-tail keywords with higher search volume: SEO, on-page optimization, website optimization, on-page website optimization, on-page SEO, and on-page SEO optimization. RankBrain can pick apart a long-tail and see all of these short-tail terms even if the words are in different order, Rosko noted.
To RankBrain, this is an incentive to prioritize your website's positioning in the SERPs.
Web Content Linking for Long-tail Keywords
The next step would be to implement an internal linking strategy using long-tail keywords that point to relevant pages on your site. In the example above, that would be a page that discusses SEO benefits, SEO tactics, or SEO optimization.
But long-tails aren't just pigeon-holed to internal linking. Often, good website content will provide links to reputable, external sites that offer additional information that may be of interest to the user. Choose your words carefully for these and you can further establish yourself as recognized, known, and trusted, which are key to how Google looks at your site.
So, if you're a tech company linking to a report about cloud-ready servers, stretch the keyword length into a more detailed description: cloud-ready servers and solutions.
"We want to look at the page we're linking to and use a long-tail keyword that is relevant to what that page is about," Rosko said. "It adds context and relevance to what we're linking to."
EAT: The New SEO Buzzword
According to Rosko, the big buzzword in SEO for 2018-19 has been E-A-T (expertise, authority, and trust). Using descriptive long-tail keywords that link to helpful pages and assets for users helps establish this.
"When creating content, you should always think to yourself, how will this benefit the user?" he said. "If you cannot think of a reason that it will benefit the user, then you may want to reconsider that piece of content.
"When it comes to Google organic search, you need to always remember, if it is good for the user then it is also good for SEO."
TSL Marketing can help you take the first step to increasing quality visitors to your site.
Tags: SEO, content marketing, B2B content, website strategy, Page Optimization, Website Optimization, Content Strategy, Link Building, User Experience