One of the top ingredients in a user-optimized, conversion-oriented website is text linking — both internal and external — wit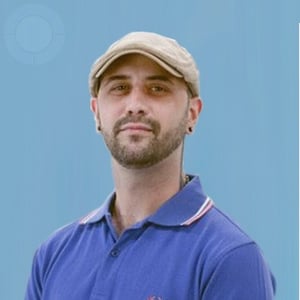 h the star of the show being high-quality SEO keywords.
Choosing targeted keywords to link to your other site pages (aka internal linking) "shares power from one page to another," says our internal SEO expert Shawn Rosko, pictured right. Likewise, linking to external, authoritative sites adds context to your own site pages, offering users additional information from reputable sources and earning high praises from the king of search: Google.
But be sure not to over-do it, Rosko warns, which can frustrate your users and anger the gatekeepers of SEO search. The key is to have a strategy in place that will lift your website to the top of search and increase your organic search hits while retaining your position as a trustworthy resource and thought leader in your industry.
The Perfect Blend for On-Page Optimization
As with any B2B search marketing strategy, there too is a perfect recipe for implementing text links on your website. The perfect blend, according to Rosko, is 80 percent internal links and 20 percent external.
"It's a good ratio," Rosko said. "We don't want to go overboard with external or internal links."
Whittling it down even further, Rosko recommends 2 internal text links for a 500-word website page. For a page with 750-1,000 words, 3 internal links will suffice. External linking, however, is more constrained. Rosko urges to only use one external text link per page — and not on every page. An entire website, he noted, should have a maximum of 3 external links.
And these external links shouldn't lead to just any website.
---
TSL Marketing can show you how to increase your website interactions.
"Don't link out to sites that aren't considered an authority site, such as a random blogger's post," Rosko said.
Instead, he recommends taking that keyword, plopping it in search, and linking to a website that sits in one of the top 5 spots. If a website ranks in the top 5 or 10, Rosko added, Google sees them as an authority.
To recap, ensure any external linking leads to a site that:
Is relevant to your keyword and the topic of your webpage
Is an organization of authority in your industry
Provides your readers with solid, accurate, additional information, should they choose to delve further
"To Google," Rosko said, "ranking well is earned by providing the best user experience and giving them the context they need to make informed decisions."
---
Selecting the Right Word for the Job
So you're ready to implement some internal links within your website copy and you know which pages you want to direct your audience to, but which words do you choose to hyperlink? That's easy, Rosko says. Choose targeted keywords that are relevant to the topic of the internal page you're linking to. These can be short-tail keywords or long-tail keywords (3-6-word phrases).
Rosko used TSL's own website as an example: "So if we're linking to our SEO page from our Services page, we want to make sure that SEO is part of that long-tail keyword. The way the search engine crawlers go through, backlinks are the No. 1 ranking factor. They're going to crawl these links and see relevancy in internal links."
Rosko must be doing something right. TSL's website currently ranks in the top 20 for 15 keywords!
The Attractive, Take-Charge Text Link
Color Coordinated
Implementing external and internal text links does no goo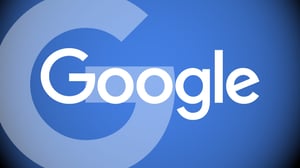 d if users can't tell that they're a portal to additional information. That's why it's important to identify them in a way a reader will recognize: by adding a hint of color — but not just any color!
"The color should always be the same that Google uses in its search results – blue," Rosko said. "And they should always be underlined." The hex code for that color is #1906A7.
These tactics not only help a reader pinpoint links, but it lets Google know that you're not trying to sneak something under the radar.
"I've seen links that are black and not underlined," Rosko said. "You can't tell it's a link. [Search engines] will think you're trying to hide it.
"Google blue stands out, and it's easier for their spiders to identify as well."
Chivalrously Opens Doors
The way a text link opens can either lead to a breakup/separation with your user (they inadvertently stray from your website) or to a generous, give-and-take relationship, where you supply your reader with the information they need — plus bonus information on the topics of their choice — and they, in turn, loyally remain on your website.
While it's permittable for internal links to open in a new tab, Rosko notes that it's preferable they open in the same window, just as a precautionary measure to keep users from straying. For external links, though, opening in the same tab is an absolute no-no.
"We don't want to bring people away from our site," he said. "Always make external links open in a new tab."
Now that you have insight on internal and external linking strategies, take the next step in content optimization! Download our free SEO checklist and discover where your efforts currently stand!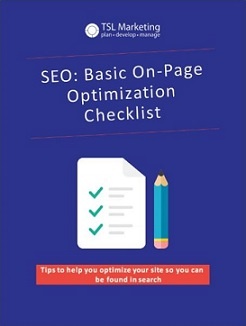 Tags: SEO, Website Optimization, Content Strategy, Link Building