Understanding the B2B Buyer's Journey
Many of the modern ideas of B2B marketing give the entire process a false sense of simplicity. In this blog, part II of our series on building a B2B marketing framework, we examine the B2B buyer's journey.
Building Customer Centric Content Aligned with the Buyer's Journey
Attract-->Convert-->Close-->Delight is what HubSpot's vision of inbound looks like.
Just turn strangers into visitors, visitors into conversions, conversions into leads, leads into customers, and customers into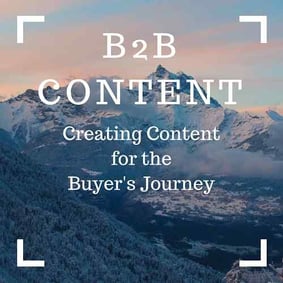 promoters, and you'll be all set.
It might sound easy, but there's a complexity to this formula that you need to understand first. If you're starting from zero, then you're going to have to make an investment in systems and content.
Step one of this journey is to build content that is customer centric. This customer centric content should align with the buyer's journey.
To do this in tandem, you need to understand the buyer's journey from your customers' point of view. You need to find out answers to questions such as:
What are they thinking about or doing at every stage?
What kind of content and offers are going to appeal to them at every stage?
In Content Marketing Tips for B2B Organizations, Rand Fishkin explains that B2B is different than B2C marketing. This means you need to consider the differences and the complexities.
Let's set up this next part with another quick exercise that will outline this section. Think about the following questions and determine what your customer buyer's journeys look like.
Questions:
Do your potential buyers know who you are and what you do?
What are the professional interests and concerns of your broadest possible audience?
Why do your customers buy from you?
Are your content and offers providing value in relation to the entire buyer's journey?
Do the content and offers you're providing align with your business goals?



2.1 Understanding the B2B Buyer's Journey: Do your potential buyers know who you are and what you do?
Branding: Do Your Prospects Know Who You Are?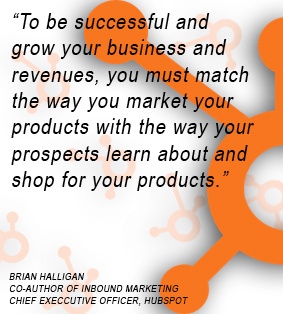 Well-established organizations may find that their traditional branding efforts aren't making a digital dent. Are you in this situation? If so, then you may find that your marketing direction needs to change. Your digital model may have to be closer to that of a start-up.
Consider the people who are familiar with your brand. Who are they? Your customers and maybe even a local audience are familiar with you, but who else?
There's a world of potential customers who may have no recognition of your brand. How big is that audience? Do you want to do business with them? If so, then part of your marketing efforts needs to focus on introducing your company to them.
Your potential customer audience needs to understand who you are and what you do. You also need to show your competitive differentiation and build up brand trust. Customers will be more likely to consider doing business with you when they trust you.
So how do you start sending positive brand signals? How to you start bridging the trust gap?
Exercise 1:
Do you have a memorable logo and company mission?
Do your digital properties tell the story of how you help your customers?
Are your team member bios (along with their pictures) featured on your site?
Does your website feature content like case studies or video customer testimonials?
Do your digital properties display trust factors? These items include:

Awards
Certifications
Partnerships
Industry recognition
Positive customer testimonials

Is your company well-reviewed on sites like Google, Yelp, or Glassdoor?
The Benefits of Branding
Early on in the buyer's journey, people are looking to get a better understanding of your company. Who are you? What do you do well? What can they gain through doing business with you?
They want to know who your people are. They also want proof that you've worked for companies like theirs. They're also going to want to see that those companies have good things to say about you.
Prospects are doing some of this research on your site. But they're also looking at review sites and social media. It's important to be aware of your complete digital presence.
Is your website content helpful to your visitors or is it just a laundry list of products and services? Your website should be helpful to your visitors and it should tell your story in a positive way. Being customer-centric means writing for your visitors and what they want to read—not what you want them to read.
Tell the story of why your current customers love to work with you. Better yet, use the words of others to tell that story. Case studies, testimonials, and especially videos can help you tell your brand's story.
Focus on that last part. From an outsider's perspective, it's not about what you do. It's about what you'll do for them. It's essential to show that you're competent, that you're trustworthy, and that you care. Showcasing people like your visitors who have had positive experiences with your brand is essential.
Great branding will help you build a relationship. Brand affinity and brand trust aren't won overnight. Your efforts to build and maintain your brand should be an always-on marketing effort.

2.2 Understanding the B2B Buyer's Journey: What are the professional interests and concerns of your broadest possible audience in a pre-engagement stage?
Show Them You Care: Capturing the Attention of Your Prospects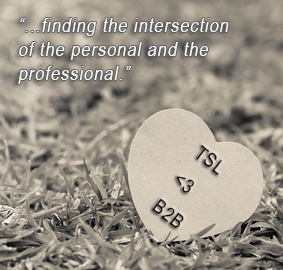 So much B2B content today is blatant, in-your-face, no-shame sales and marketing messages. This may help someone who is researching your products and services. But it doesn't create a positive experience for those who are fits, but aren't looking to buy.
Why should you care about helping someone who isn't looking to buy from you today? Because you want to give that audience a positive brand experience. When they do start looking for products and services like yours, they'll consider you.
So how do you market to this audience of contacts who fit WITHOUT explicit product marketing?
Find the Intersection of the Personal and the Professional
This gets back to the idea of understanding your buyer personas. I refer to this as "finding the intersection of the personal and the professional." So much of today's marketing treats the B2B prospect like they're a company with business pains.
Some prospects may relate to this, especially if they're in a situation where they're actively looking to address business pains. Your job as a marketer is to find out what else they care about.
Exercise 2 (note your findings):
Always be

selling

help. Is your digital content helpful in ways that don't tie into what you're trying to sell?
What are the everyday concerns of the individuals who buy from you? Think about how you could make their jobs easier.
What are their personal and professional goals? Do you have advice to help them achieve those?
What knowledge can you relay to your audience that they'll find uniquely valuable?
What are some of the general interests of your audience? Think about the personal and professional interests that align with your business goals. Create adjacent content that they'll feel compelled to consume.
The Importance of Empathy
Your digital content marketing efforts should be relatable to their day-to-day. Show them you care. Show them that you understand them. Create digital experiences that delight, but that aren't explicit sales messages. You may think you're cloaking your sales messages, but smart digital consumers will spot them.
Don't treat them well only when they're looking to buy from you and ignore them otherwise. Be helpful, be interesting or entertaining, be a thought-leader in your space. Show your audience you care about their interests even when they're not customers. This will engender a positive brand experience.
After all, if a company treats its non-customers in a great way, imagine how they must treat their customers!

2.3 Why do your customers buy from you?
Why Do Customers Love Working with You?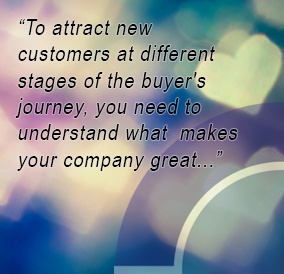 I head up client consults from time-to-time, and we always ask about differentiation. What sets you apart from your competition? Why do your most loyal customers love working with you versus the next guy? Many times, the answers aren't reflected at all in the client's marketing efforts.
We'll hear "our people" quite often. Then, we'll note that their people aren't featured anywhere on the website. The people story (outside of maybe one or two people in leadership) isn't told.
We'll also hear our clients talk about their great customer service. Yet, nowhere on the site are there reviews, testimonials, or case studies.
To attract new customers at different stages of the buyer's journey, you need to understand what makes your company great. Identify those factors that help you win business and keep customers. By doing this, you'll be able to come up with content and offers that will help you drive digital demand.
Exercise 3 (note your findings):
Who are your best customers? Sit down with them and ask them why they decided to work with you. Why do they continue to work with you?
What are the things about your company that set you apart from your competition? Where is this reflected in your marketing?
Find review sites where customers can express their satisfaction about working with you. Ask a happy customer to write a review. Write down the names of 10 companies willing to write a positive review.
What are some of the great company stories that help humanize your brand? Are they part of your marketing today?



2.4 Understanding the B2B Buyer's Journey: Are your content and offers providing value in the entire buyer's journey?
Providing Value at Every Stage of Buyer's Journey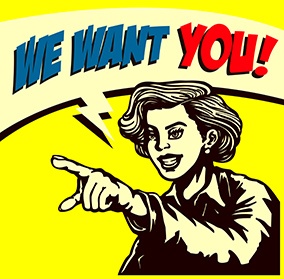 We've talked about the providing your broadest audience and with a positive brand experience. What about that smaller universe of people who are just starting their journey? How do you attract them with your content and offers? It's a similar process to the pre-consideration stage: Provide them with something of value.
The value you're providing needs to align with where that person is in their buyer's journey. This is why it's important to think about what is considered valuable from their perspective.
Think less about what you want them to see and more about what they're looking for. The key here is putting the right content in front of them, in the right place, at the right time.
Buyer Consideration - Awareness
Buyers in this stage have challenges that you can address. But they may not be searching for a company like yours to help them solve the problem.
They might even be looking for ways to solve the challenges on their own.
Your content and offers need to show that you understand what they're going through. You need to show them that you are a source of information to turn to for help. You can do this while offering solutions and tips that are product/solution agnostic.
This is where your informative thought-leadership content can shine through. Your goal is to make your audience aware that you understand and can solve these issues. You need to prove to them that you're worthy of deeper evaluation.
Types of Awareness Content
Press releases
Blog posts - especially best practice tips or how-to guides
Informative videos
Informative social media posts
Infographics
Again, why attract this audience if they're not buying today? If you're attracting this audience, then you're reaching people who could become customers. Do not ignore them now.
Work to make sure that they're aware of you and have a positive regard for your brand. Get them to subscribe to your blog. Ask them for their email address in return for access to certain information or content.
Be careful here. Don't expect them to give you their full contact information on pages with forms. You may want to limit pages with forms so that you can ingratiate your company to them.
When they do fill out forms, don't have the expectation that these contacts are ready to buy. If done right, you should come to mind first when they start to do a deeper level of buyer investigation.
Buyer Consideration - Investigation
Buyers in this early consideration period don't just have a pain. They recognize what that pain is AND they're considering acting to find out ways to address that pain. Your content and offers here need to relate their pain to your solutions. Your goal is to show yourself as a player in the marketplace who can help them solve their problems.
Types of Investigation Content
eBooks
Demo videos
Webinars
Events
This is a stage where you can start gating some of your more valuable content and offers. Use your landing pages and try to capture these early stage leads. Soft follow-up calls to gauge interest and introduce your company could be beneficial.
Buyer Consideration - Comparison
In the comparison stage, buyers are trying to find out how you stack up against the competition. They're starting to do a deeper investigation of your products, services, and/or solutions.
This is where you have to work to show how you stand apart from the rest. Consider a few of the comparative factors people think about when weighing their options:
Cost considerations like price, lifetime value, and ROI.
Quality of service or solution. What kinds of skills does your team have? How focused are you on customer service? What do your current customers have to say about your customer service?
Solution or service features. Do your products or solutions have features that set them apart from the competition?
Online reviews. What do others have to say about your products and services?
Location. This might be important to a customer who is looking to work with someone locally.
Types of Comparison Content
Fact sheets - solution briefs and sell sheets
Case studies
Testimonials and testimonial videos
Webinars
Online reviews
Buyer Consideration - Final Consideration
As buyers make their final considerations, they may need a final push or a few questions answered. Details about product specs or solution features could be helpful. At this stage, it's important to build content that helps to ready your sales team for this last push.
You're trying to help your potential buyer reinforce their final decision. Content may be helpful here, but they may be looking for more hands-on help. A free consultation or a product demo could make the difference at this stage.
Final Consideration Content Types
FAQ sheets
Brochures
Spec sheets and technology guides
Hands-on demonstration
Support material for consultants and/or sales team
Buyer Consideration - Purchase and Post-Sale
You've heard statistics about how much more expensive it is to acquire a new customer than to retain an existing customer. So now that you've won the business, how are you going to support customer retention? In Avinash Kaushik's See-Think-Do Content Marketing Framework, this is the Care stage.
The care part is what helps you drive lifetime customer value and repeat purchases. Is your marketing built to show that you care and can take a customer from purchaser to brand advocate?
Purchase and Post-Sale Content Types
Onboarding documents
Help articles/Fix documentation
Upgrade announcements
Customer loyalty events
Webinars
Exclusive customer newsletters
Auditing Your B2B Content
It's time to focus on your own content. Start with a self-evaluation. Consider how well your content and offers attract people at different consideration stages.
Do an inventory of what you have and ask some of these questions:
Exercise 4
Are there gaps in your digital content and offers for various stages of the buyer's journey?
Are your content and offers accessible on your website? What are the paths to conversion on your site?
Do the pages where your content exists contain adjacent themes? Are your content and offers consistent with the topics and themes of your site pages and blogs?
Do you have processes or workflows set up to help someone through the buyer's journey?
A digital content and offer audit can help you build a strategy that helps make sure that your content is:
Focused on the customer.
Consistent with the buyer's journey.
Aligned with your business goals.

2.5 Do the content and offers you're providing align with your business goals?
Aligning Content and Offers with Your Business Goals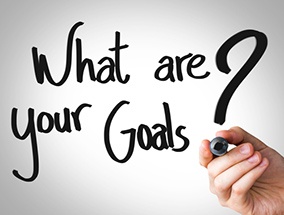 A variety of offers for your prospects and customers is a key to your B2B marketing framework. Don't forget the business. Every part of your planning needs to take business goals into consideration.
What is the value of an infographic if it's not driving some sort of prospect or customer engagement? What's the value of a well-trafficked blog if those visitors never become customers?
Yes, you want to build content and offers that are valuable to your prospects. That said, your content and offers need to be purpose-built to align with your business goals. Aligning your offers and your goals are critical to your marketing evaluation and planning.
To be able to draw those lines, you have to define your marketing goals. You can base this on their flow from visitor to buyer.
How do you understand your success with metrics? Which metrics not only align with your business goals, but are also realistic based on the consideration stage?
Exercise (note what you consider your key metrics):
Early Consideration Stage - What are your performance metrics? Here are some to consider:

Visits
New visits
Social amplification (e.g., likes, shares)
Interaction percentage

Middle Consideration Stage - You're looking for more direct engagement here. So look to metrics like these:

Click-through-rate to your content and offers
Value of a visit based on completed goals
Conversion assist percentage of pages and content
Subscribers or first-time submissions
Site pages viewed

Later Consideration Stage - Now, you're trying to convert to customers. Here are some numbers to consider:

Return visits (visitor loyalty)
Conversion rate
Conversion to MQL, MQL to SAL, and SAL to SQL rates
Revenue from wins
Return on advertising spend
Total lifetime value of a customer
Next Time: Determining Business Goals
In the next part of this blog series, we'll talk about how to determine your key marketing metrics.
The goal of that exercise will be to build towards a B2B marketing framework. Your B2B marketing framework should build toward greater profit, continuous measurement, and continuous improvement.
These exercises will help you build that framework. One that can show ROI and that ties to your business goals.
I've dumped a lot of information here. Have something to say? Feel free to add your thoughts in a comment below. Also, be sure to follow TSL Marketing on LinkedIn, Twitter, or Facebook. Our social media team provides updates and content on the world of B2B marketing.
If you've liked what you've read so far, then feel free to share to your social channels as well.
Marketing Framework Assessment
Looking to sit down with myself or a member of my team for a preliminary conversation? Then sign up for a no-cost assessment of your current marketing plan. You can also reach out to us to set up a half or full-day paid marketing session with a member of our team. Inquire here for the paid digital marketing assessments.