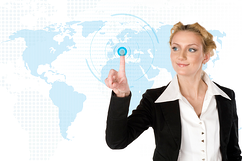 It is exciting to discover fresh marketing platforms that help create brand awareness and add to your marketing mix. Social Gaming is proving to be a fast growing trend for internet users. Gone are the boundaries that would normally restrict this type of phenomenon to adolescents, young adults or college students. Suprisingly, a recent PopCap study concluded that the average gamer in the USA is a 43 year old woman. Social gaming is a billion dollar industry that, according to eMarketer, has attracted 61.9 million avid users this year and represents 27% of all US internet users. So you might be asking...what does this mean for your company?
This increasing popularity of online gaming has opened the door for companies to gain more exposure for their brand. Since this is a new platform, there are many unique ways for companies to catch the attention of their target market. Below are three companies who have successfully begun marketing on social gaming sites:
Mastercard has raised over $94K for charity with their new brand awareness campaign on Facebook. Using GTG (Games that Give), Mastercard has created games that are played via facebook. Using these games, Mastercard donates .10 cents to charity for every minute a game is played, and .10 cents for every 'like' on Facebook. Mastercard branding and advertising are embedded in the game. This has proved to be successful in converting fans and 'friends' on Facebook into actual customers.
7 Eleven teamed up with Zynga games to link real world products with virtual goods. To enhance popular games such as Farmville, loyal fans are able to go into any 7 Eleven and purchase one of 30 pre-selected 7 Eleven branded products that contain codes redeemable for virtual goods online. This campaign successfully increased the sales of 7 Eleven branded products and helped track useful metrics information for both companies.
Century 21 saw a decline in their sales and did research to reveal that part of the problem was a lack of brand awareness. The company further discovered that the average home buyers are now individuals in their mid-20s through mid-30s. Century 21 decided to attract that demographic by using social gaming marketing in We City. In We City, Century 21 created branded virtual goods that were used to construct various types of buildings throughout the 'city'. The engagement rate of Century 21 products rose to 92% in less than a year. The CMO is hoping that this high engagement rate will cause an increase in sales at the end of the year.
These examples are a few fun and effective ways to use Social Gaming in your company's marketing mix! Do your own research to discover the many benefits of the various forms of social media marketing.
Sources:
http://www.credit-land.com/news/mastercard-philanthropy-through-playing-games-1032.php
http://gigaom.com/2010/02/17/average-social-gamer-is-a-43-year-old-woman/
http://www.emarketer.com/
http://www.inman.com/news/2011/04/12/century-21-partners-with-mobile-game-co
http://www.gossipgamers.com/7-eleven-and-farmville-team-up-in-an-upcoming-promotion/#int27
Tags: Channel Marketing, advertising