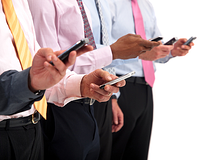 Mobile Marketing is one of
the fastest growing marketing channels to date. Has your business capitalized on
this new tool for marketing?
Windows has captured the increased dependency of cell phones with their recent
"Really commercials." The rise in dependency of mobile devices may be slightly annoying in your personal life but can bring your business marketing success!
The five main tools of Mobile Marketing are:
Mobile Websites
Text Message Advertising
Coupons
Ads
Apps
We found a video on YouTube that shows how powerful mobile marketing is becoming. It highlights some opportunities for your company to reach more of your target market in a way that is easy to use and easily accessible to potential customers:
With so many resources online and offline educating companies on the topic of mobile marketing channels, it may be time to think about investing your marketing dollars in mobile marketing.