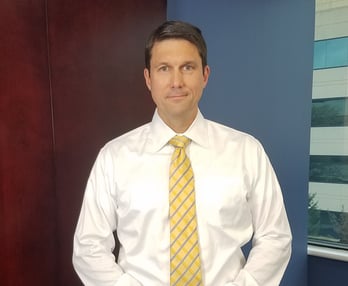 TSL Marketing recently celebrated its 20th anniversary. We wanted to take this opportunity to have our President and co-founder David English share some of the highlights of the company's history as a B2B technology marketing company.
How did TSL Marketing get its start?
TSL was founded in Carlow, Ireland in early 1999 by Mike Kelly and me. Mike and I met working in Boston. He then went on to work for Iona Software, and I went to IBM. We both had the idea of creating a marketing firm. Our initial focus was on outbound lead generation.
I thought it was an exciting idea to move to Ireland for a year to start the company. At the time, the European common currency, the Euro, was on the near horizon. We thought there would be value in starting a marketing company in Ireland that could cover all of Europe. Ireland was pro-business and supportive of people starting companies.
In the beginning, it was just the two of us launching the company at the Innovation Center at Carlow University. It was nice to be in an environment that encouraged innovation, and it helped us get started quickly. Being associated with the Innovation Center also lent us credibility because we needed to be vetted before joining the center.
The experience of starting the company was exciting and a lot of hard work. In the beginning, the only assets we had were the two of us and our hard labor. We worked long hours.
Our first campaign involved calling into Malaysia. We would call from 3 am until 9 am and then work the Irish business day from 9 am to 5 pm. Other times we had to work late into the night. Carlow is a small town, and there weren't many places to eat late at night, so we would often get dinner at the gas station, which was the only place open.
It was a lot of fun. We were both young and neither of us had financial obligations other than our own. It was also interesting to have to tackle challenges I never expected. For example, I did have difficulty pronouncing Gaelic names, so I would write them down and come to Mike once a day to have him pronounce them all!
What prompted TSL to expand into the U.S.?
We decided to move to the U.S. because of the big tech sector there. I had gone to college in Boston, and we both felt it was a good place to open a U.S. office. We quickly built out the U.S. team and had success with U.S. customers. Boston had the benefit of a great workforce, and many Irish people are in business there.

I'm from Maryland, so eventually I moved back there, and the Boston employees became remote. That move took about 7 years.

We have expanded geographically across the U.S. and into Canada. Today, we have many employees across the U.S. and a team in Montreal.

We opened an office in India 10 years ago, and that office has grown and become successful. It serves both India and Asia Pacific. We also have an office in Singapore.
How did TSL survive the dotcom bubble burst and continue thriving?
We grew and survived by being hardworking and providing quality. We were small and nimble. When we started, there was a dotcom bubble that was interesting to be a part of. A lot of companies were being created. As the bubble was expanding, it helped us build business. Startups couldn't hire fast enough, so they turned to us, and that helped us develop capabilities.

In the early 2000s, the bubble burst spectacularly, causing challenges. Our largest customer at the time called me on Thanksgiving Eve saying they would have to stop their program. When I suggested we just run until the end of the year due to their 30-day opt out, he said their doors were locked and all the employees were fired.

Fortunately, we had kept our structure flexible and nimble, so we were able to pivot to work with larger, more-established companies. This was good for our long-term growth.
How did you make the shift to combining outbound and digital content marketing?
In the mid-2000s, we started building our B2B channel marketing expertise. We could see a major shift in marketing trends and started to invest in digital while keeping our traditional marketing efforts going. We were fortunate to start investing early so we could stay ahead of the game.
This head start helped as changes in marketing developed at a fast clip. In 2008 and 2009, we continued to build out our digital capabilities, leveraging marketing automation and social networks.
We've undergone a lot of changes, but we've stayed faithful to the idea that B2B salespeople matter. There were those who felt there was a magical journey that people buying B2B tech go through by engaging with content without talking to a salesperson.
Many inbound marketers said the salesperson was dead. At TSL, we believe that to be wrong. We know that the human component in sales and marketing is always important.
How does TSL continue to combine inbound and outbound marketing today?
Instead of referring to inbound and outbound, we refer to 3 main categories:
Being Found
Building Awareness
Proactive Outreach
We can do all 3 things. We ensure that interested parties can find your company, and we let people know who you are. We also believe in proactive outreach because a prospect may not engage with your company today, but by taking a proactive approach, we increase the chances of a future engagement.
How has TSL distinguished itself over the years?
We've distinguished ourselves by becoming very good at serving our market segment. We focus on B2B and on the tech space, particularly MSPs, SPs, SaaS firms, SaaS ecosystems, and channel marketing organizations. By being results-oriented and extremely knowledgeable about our market segments, we show value for our clients and empower them to accomplish more with their investment in our services.
What new directions is TSL moving in?
We are helping clients adjust and integrate their marketing and sales cycles. The B2B buying process has changed. Cloud and SaaS offerings have changed along with deal sizes and structures. We evolve our processes to reflect these changes.
We are trying to integrate the digital journey with sales. The two can play off each other throughout the entire sales cycle, not just the beginning.
We overlay sales and marketing to create cost-effective nurture programs that involve the human touch. It's interesting to see marketing evolve. Marketing has become more exciting, and B2B companies have more of an ability to shape their businesses.
Benefit from TSL's more than 20 years of marketing experience. Request a Marketing Plan, Mix, and ROI Analysis with one of our B2B technology marketing experts.
Tags: Inbound & Outbound Marketing, B2B Marketing, TSL Marketing, Technology Marketing, Channel Marketing, Inbound Marketing