TSL Marketing is gearing up for INBOUND 2020, a virtual event Sept. 22-23 that will bring digital marketers together from all over the world. We hope you will stop by our virtual booth for more information about our HubSpot training, integration, and migration services, but first, we'd like to introduce you to some of the faces you'll see at the event beforehand so you can stop by and say hello.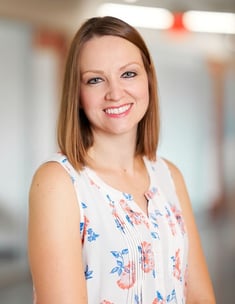 Today we will speak to Christie Gunden, TSL Marketing Strategist, and learn how she

helps B2B tech companies transition to and optimize their use of the HubSpot sales and marketing hub.
What are your primary duties within TSL Marketing's HubSpot services?
Christie: TSL customizes training that's specific to an organization's business goals. I am an expert in the marketing portion of the platform and get called upon for training and bringing new clients up to speed with their new HubSpot accounts. I created a formalized training program to onboard clients to HubSpot, which is typically a 6 or 7-week program. During training, the client's staff and I meet once a week. I demo that week's topic and give them a homework assignment that they can work on throughout the week. I also hold office hours so people can hop in if they have any questions while they're completing their practicums because it's always different when you see somebody do it and then try it yourself.
In the HubSpot marketing suite, my expertise is a combination of strategy and tactical implementation. We determine the best way to accomplish what you're looking to do within HubSpot for your particular business and specific marketing goals. I'm very ground-floor and deep in technical knowledge and implementation — how to think about it and how to get it done. I advise clients on a variety of HubSpot marketing aspects, from naming conventions so they have consistency and findability across the different campaigns and assets they have created, through to how to create and optimize emails or landing pages.
How have you seen the popularity of the HubSpot platform grow over the years?
Christie: I have been using HubSpot consistently since 2011. I remember going to one of HubSpot's initial user group meetings and, at that time, there were fewer than 500 people.
Flash forward to their annual user group conference today and it has thousands upon thousands of people in attendance. The platform's feature sets have grown significantly and increased in popularity since I first started using it.
How does HubSpot compare to other sales and CRM platforms?
Christie: I am not as deep in the other marketing automation platforms, but I have had my hand in Salesforce Pardot, and there are a lot of challenges with it. My experience was that it was not very user friendly or intuitive. It accomplishes some of the same things, but it takes me almost three times as long to figure it out. Beyond the platform itself, Pardot's support is entirely different. There may be support available via Pardot, such as a phone number to call to get in touch with someone from tech support, but I was never able to find it.
HubSpot has a much more intuitive interface, but they also have that much-needed support. When you inevitably have technical questions, you can ask them in four different ways: online chat, calling, requesting a call, or submitting an email ticket. It's communication as you prefer it. They also have an enormous amount of help and how-to articles, videos, and training opportunities that explain how to engage the platform, as well as an active user community. HubSpot places an enormous amount of effort into supporting their own platform.
---

" HubSpot is a 2.0 for clients. They see what it can do and they're like 'WOW, it does all of these things in one place!' The name of HubSpot says it all. It is a centralized hub for all your marketing activities."

---

What ultimately leads TSL clients to want to transition to HubSpot?
Christie: There are two main reasons. One is that they have been cobbling together a lot of different tools and pulling them all together to try to get the functionality that HubSpot already has. These clients typically are using different platforms and are looking for ways to achieve actionable insight. Each platform offers different analytics, requires different logins, and doesn't communicate easily with other platforms.

HubSpot is a 2.0 for those clients. They see what it can do and they're like 'WOW, it does all of these things in one place!' The name of HubSpot says it all. It is a centralized hub for all your marketing activities. They're attracted to HubSpot for the sake of having everything in one place and having marketing actions and activities talk to each other.

In addition to having all your standard marketing functions in one centralized place, you have the ability to not only look at the analytics holistically but to automate processes across the different functions. So, if a prospect engaged with an email in a particular way, we want to automatically trigger an action based on that activity. That capability is a real value add for clients who have been using disconnected marketing systems.
How does HubSpot fare for marketing teams with limited coding ability?
Christie: Another reason clients choose HubSpot is because they're looking for something less technical for their marketing team. My coding expertise, for example, is light. I'm somewhat comfortable with HTML because I've picked it up over the years, but with Pardot, I've run into limitations. Those issues don't happen with the same frequency in HubSpot. Marketing teams will find it to be easier in HubSpot.
---

" HubSpot's information architecture makes it quite easy to show clients around."

---

How does the HubSpot interface make training our clients easy and efficient?
Christie: The internal navigation and information architecture are intuitive, and the platform is set up in a logical way. There are a lot of capabilities in HubSpot, and it could have easily been a real cluster inside. For example, if you're looking for lists, it makes sense to look under the Contacts menu; if you want to send an email, you go under the Marketing tab and see different marketing channels. HubSpot's information architecture makes it quite easy to show clients around.
We hope you'll stop by to see us at INBOUND 2020. But if you're ready to get started now, sign up for an analysis of your current sales process and platforms and let us show you how we can put HubSpot to work for you.
Tags: Marketing Tips, marketing tools, sales and marketing, HubSpot, HubSpot training, HubSpot agency, client management, HubSpot CRM, HubSpot services, HubSpot partner, HubSpot CMS