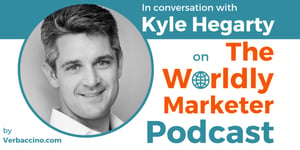 TSL Marketing's Managing Director for Asia-Pacific markets Kyle Hegarty was recently a guest on The Worldly Marketer Podcast.

Hegarty helps companies develop and expand their footprint in the Asia-Pacific region by focusing on cross-cultural leadership strategies and sales and marketing solutions to drive growth.

Interviewed by host Kathrin Bussmann, Hegarty, who is based in Singapore, divulged some lessons learned over his years of bridging the cultural gap between worlds-apart marketers working together to execute successful lead generation campaigns.

Specifically, he urged startups or expanding companies to do their homework before diving into the APAC market.

Below are three of the cultural variations noted by Hegarty that should be considered when working with an APAC marketing partner.
---
Listen to the full podcast episode here.
---
1. Communication: Their definition of rude does not match ours
In North America, not only are we quick to speak our minds, but it's expected of us, especially during brainstorming sessions, such as those in preparation for a B2B marketing campaign launch. During a typical planning session, participants are expected to speak up and give their opinion upfront. Arguing through to a conclusion is part of everyday business life.
But in APAC countries, Hegarty noted, it is quite the opposite. To speak up during a conference call or disagree with a marketing partner is perceived as rude.
"They might have a profound disagreement," Hegarty said, "but it would be culturally inappropriate to bring it up in a group setting."
Instead, in other parts of the world such as Southeast Asia, they solve problems by avoiding confrontation, kind of in a "backchannel way," he said.
The result is a disconnect in strategy.
"How do you then address the fact that conference calls don't necessarily go as you expect, especially if you're used to working a certain way?" Hegarty asked.
There's no right or wrong way of doing things, he noted; rather, it's defining what those differences look like.
"We need to make sure our global B2B Marketing teams are aligned from a communication and working standpoint."
The Ramadan Equation
Perhaps one of the most telling stories to this matter is of a technology company that wanted to host several global events to educate prospects on their software. The vision was a worldwide lunch-n-learn that would cater to the tastes of various countries, serving coffee or tea according to the popular preference of the area.
Hegarty recalled that the head marketer, who was Britain-based, specifically solicited ideas, suggestions, and concerns from his global partners, including those in Malaysia. When no one objected, he gave the green light to go forward with the event lineup.
But when no one attended the event in Malaysia (and the company suffered a loss of thousands of dollars), the head marketer discovered that the event coincided with Ramadan, a month-long Muslim observance in which fasting occurs – which includes avoiding the consumption of beverages during daylight hours.
After the failed event, some perceived the technology company as being "insensitive" to the cultural observance.
Frustrated, the head marketer asked the Malaysia team why they didn't warn him beforehand. While he saw the lack of feedback as irresponsible, the Malaysia partners thought they were doing the honorable thing by following through with the marketing plan.
"It was a classic case of cultural misunderstanding," Hegarty said. "What [TSL Marketing] is trying to do is to get those discussions out on the table to prevent big issues from popping up."
2. Sales: Face-to-face communication is the only way to go
The Asia-Pacific approach to sales is a little more traditional than North America's, Hegarty noted. While we are just fine with developing a business relationship digitally or over the phone, APAC marketers work in a more personable way. Relationship-building to produce sales is a slow-paced activity, with lots of face-to-face meetings.
"In Asia, you have fast-moving, fast growth markets," Hegarty said. "But in many cases, it's slower sales. Deals are moving, but move slow."
The underlying issue may round back to the politeness factor, he added.
"[Prospects] who says 'yes' — sometimes 'yes' means something else, because it might be rude to say 'no.'
"We've seen a ton of people come over and try to sell in the style methodology that they're used to, but it doesn't work the same way here."
3. Social: Not all countries are savvy in all channels
Did you know that YouTube is the most popular social platform in Vietnam? For Indonesia, it's Twitter.
"There's so much fragmentation in the market," Hegarty said.
If you're a B2B marketing company putting together a global social strategy, don't pigeon-hole your campaign to just one social platform. It won't have an equal impact in APAC markets, Hegarty warned.
"Different social platforms have different user interactions in different parts of the world," he said.
But there's one digital communication tool that continues to be universal: Email.
"Email lists have the highest conversion rates," Hegarty said.
There's no such thing as an 'Asia strategy'
Just as North America doesn't want to be under one marketing umbrella, APAC companies deserve diversity too. Don't go to an Asia strategy, Hegarty said; go to a country-specific strategy.
"Asia is not a market," he said. "It's a series of small markets. Every country has different things going on."
Working styles vary considerably across the planet, and a sales strategy needs to be adjusted to meet local needs. It's worth understanding local differences.
Here are Hegarty's suggestions when starting a global marketing plan in the Asia-Pacific:
Spend more time upfront doing market research on specific countries and ignore region-wide data trends.
Pick one country, one city, as a starting point rather than thinking of a regional-wide rollout.
Find a local partner, somebody who already knows the local market and can help you. And spend time building that relationship. Make sure it's a good fit and is somebody you can communicate with and trust.
Doing the research will involve time and money, but Hegarty said it's worth it down the road.
"Partnerships are going to help American or foreign companies navigate some of these tricky markets across the region."
Find out more about Kyle Hegarty and other TSL Marketing B2B marketing leaders by reading their bios here.
Tags: co-marketing, Marketing Tips, Channel Marketing, Event Marketing, marketing tools, marketing alignment, sales and marketing, sales and marketing alignment, marketing mix, marketing trends, Channel Strategy