From Salesforce to HubSpot Sales Hub Enterprise: A Success Story
Backstory
The Choice to Migrate
Do you remember the day when your organization migrated from a traditional email, calendar, file storage, chat technology to an intuitive, integrated, easy-to-use, timesaving, cloud-based collaboration solution such as Office 365, Slack, or G Suite?
At first, there was a learning curve. However, quite quickly, you recognized the power of the platform and how your everyday professional life, productivity, effectiveness, and interactions would dramatically improve.
In late 2018, our agency went through the same transformational experience referenced above, but in relation to our Sales and Customer Relationship Management (CRM) platform.
Saying goodbye to technology that is familiar to you is never easy. But a business can't experience transformation and growth without embracing change. Look past the pain of letting go and look forward to the promise of greatness that is awaiting on the other side.
Time for a Change
When Technology Has Run Its Course
How do you know if it's time to change your Sales and CRM platform? Usage.
If you're finding that your sales reps are struggling with logging activities or providing evidence that they're using the platform extensively in their process to improve customer engagement, lack of effort is probably not to blame. It may be an indication of inefficient Sales and CRM technology and tools rather than staff noncompliance.
Simply put, your Sales and CRM platform may be too difficult to use and interpret, especially if multiple applications and/or systems are in play. When disparate applications and systems are used for sales and marketing engagement, there is a lack of integration, inefficient collaboration, and the numbers might not correlate or — in worse cases — may produce false results.
When efforts aren't hatched, executed, achieved, and recorded in one repository and 'one source of truth', it becomes difficult for sales and business leaders to digest which source is producing the best engagement, what activities are providing the highest volume of leads and conversions, or the elements that are attracting new customers.
Traditional CRMs Just Don't Cut It Anymore
But what about traditional Sales and CRM platforms? The technology companies have been using for decades?
The challenge that organizations face today with traditional Sales and CRM platforms is that they are predominantly enterprise solutions — built for the enterprise. For C-level executives, sales leadership, and management, they fit the bill, providing needed reporting and analysis of the activity of their sales resources.
But they aren't useful tools for sales reps. They're complex, not intuitive, and definitely not user friendly.
---
Read on to see which Sales and CRM platform TSL Marketing chose and why!
---
Traditional CRMs usually add more time to administrative functions, demanding a piecemeal construction of reports and activities. As well, written communications from your team may come across as archaic and inefficient. An example is requiring a long thread of emails to determine a meetup date versus using an interactive availability calendar to accommodate both parties' schedules.
Content creation, too, is limited. Customer-facing documents are often generated in lackluster, hard-to-follow formats, with some offering no sharing and tracking platform at all, leaving the only option as presenting information in an unimpressive, simple attachment format.
SLAs and other agreements must be manually attached to an email, downloaded, physically signed, reattached, and returned, whereas an advanced Sales platform would offer a digitized review and signing option.
You can buy supplemental applications and integrations that help with these issues, but now your costs incurred have increased.
Overall, traditional CRMs are high-cost, highly complex, inefficient systems.
Full-Funnel Platforms: One Source for the Truth
A full-funnel, or all-in-one-sales platform such as HubSpot's Sales Hub, provides one system of record for the truth. It becomes one place to get the most relevant and accurate up-to-date data. Having that linkage between that entire process allows company divisions to work together in concert.
On the sales side, it makes a sales user much more efficient and effective.
Here is how a full-funnel Sales and CRM platform helps sales and marketing departments achieve a more effective, efficient, and integrated sales process:
Tracks how many emails and how many phone calls are made and proves sales effort.
Reveals sales diligence in the follow-up of leads that have been uncovered or migrated over from marketing.
Presents correlation to sales success rate on leads, from receiving the lead from marketing, organizing the lead into sales steps and stages, and converting those stages into opportunity pipeline and, potentially, wins.
Improves customer engagement by offering different types of tools and interactive capabilities using state-of-the-art communications technologies for a more personalized and professional approach.
Provides a digital publishing platform for both B2B marketing content (websites, blogs, emails, etc.) and customer documents (presentations, proposals, quotes, statements of work), along with the ability to track open rates and views.


Why HubSpot Sales Hub?
Why TSL Marketing Chose HubSpot Sales Hub Enterprise
We credit our recent sales engagement, effectiveness, and successes to leveraging the power of HubSpot's Sales Hub Enterprise platform in 2018, when we migrated off and from our previous technology, Salesforce.
But it wasn't an easy decision. We had been using Salesforce for roughly 13 years.
The unique differences that we saw, however, made it well worth the transition. It was not only a more affordable solution (much less expensive than our previous platform, approximately 35% less), but it was also more powerful from a user perspective, with contemporary and versatile tools and built-in applications, including but not limited to: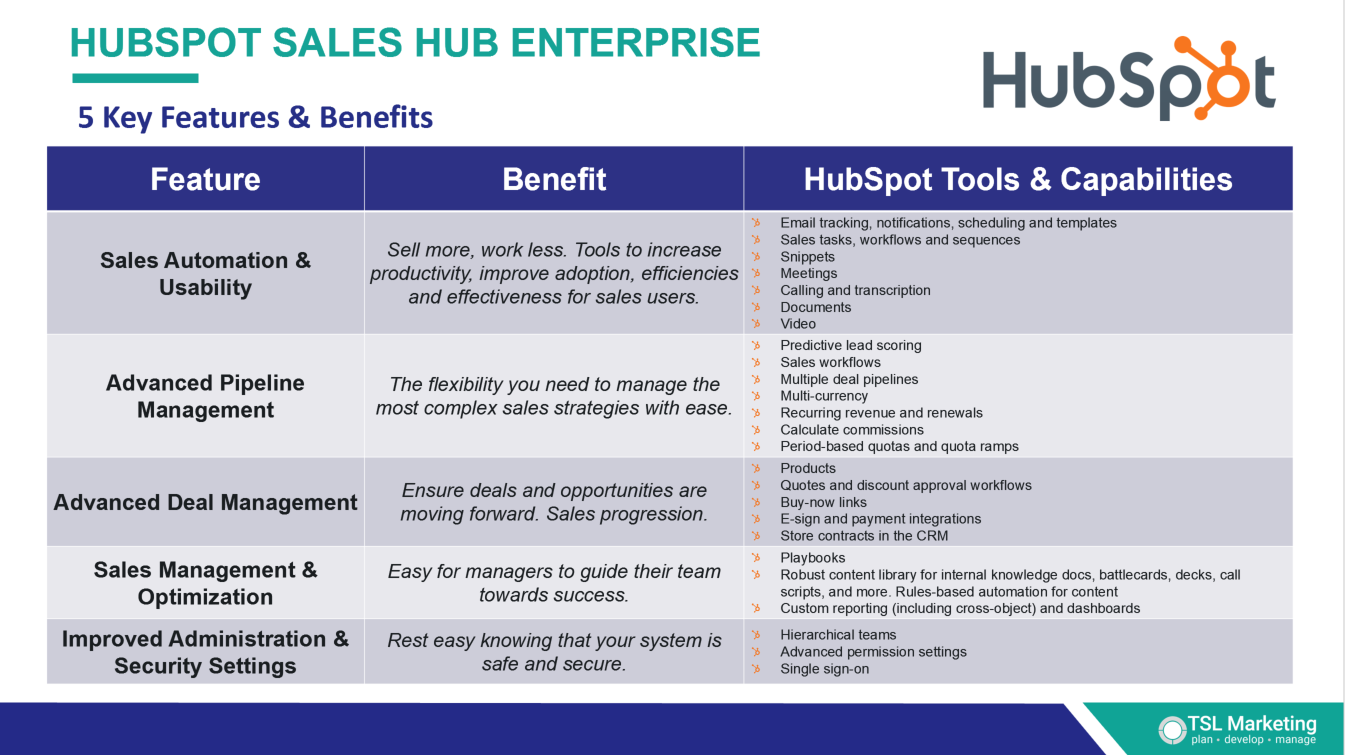 We have far surpassed our sales performance based on metrics like engagement, email, communications, and phone-based activities. Scheduling discovery meetings and progressive meetings during the sales process with HubSpot has generously exceeded what we were able to do with Salesforce.
We've improved the customer experience by basing the sharing of content and assets on tracking link indications, which let us know what's being consumed. We can offer business forms and reports in a digitized format, and customers can sign documents digitally.
Just these small changes alone have vastly improved our customer engagement process, ultimately improving customers' experience and assisting our sales team to close deals faster and with confidence.
Migration Plan & Checklist
Migration, Implementation, Onboarding, Team Adoption, Training, and Support
We created a helpful and useful CRM Migration Plan & Checklist that includes each step of the process for a successful migration from your existing Sales and CRM platform. This is the exact plan and checklist we used when we migrated from Salesforce to HubSpot Sales Hub Enterprise.
Following our step by step process will:
Ease your fear of losing historical data
Ease your fear of business disruption
Define the process and timeline for a successful migration
Guide you through the implementation and onboarding phases of the plan
Assist with guidance on team adoption, usage, and ongoing training
Help identify resources for support


Success Story
Saying Goodbye, Power User Messages
Mike Stiriti, our Director of Channel Sales and Client Strategy, admittedly had a hard time adjusting to the thought of using a new CRM and Sales platform. Mike is the most senior sales employee on our staff, and he had been using Salesforce for his entire tenure.
"After using Salesforce for almost 12 years, I was absolutely skeptical about changing platforms," he said.
With his old platform, he added, he knew where everything was, so it was easy to use. The thought of starting from ground zero and learning a whole new system was daunting.
But HubSpot's Sales Hub Enterprise capabilities, tools, and intuitive foundation blew him away!
"It only took a few weeks of using HubSpot's CRM for me to realize what I was missing: intuitive sales and marketing integrations that allowed me to proactively organize my pipeline and communicate with prospects and customers."
Mary-Anne Kavanagh, our Director of Enterprise Sales and Client Strategy, knew from day one that HubSpot Sales Hub Enterprise would be a game-changer. Mary-Anne leveraged Salesforce for simple pipeline and deal management — and not much more. Now, she has the ability to schedule virtual meetings, track email and document consumption, automate sales processes and workflows, and digitally execute quotes and agreements, all within an integrated and easy-to-use platform.

"HubSpot Sales Hub has made a huge difference in my professional life," she said. "I have a much deeper understanding of my pipeline. My prospects/clients and I can easily schedule meetings with one another without the dreaded back and forth emails. I can easily pull up prior notes, meetings, and activities for every client as needed, which makes my client interactions so much more effective. I truly love HubSpot — they did a fantastic job!"
At the end of the day, saying goodbye is never easy. But if Mike and Mary-Anne can do it, so can you.
How TSL Can Help You Transition
Don't Go It Alone
TSL Marketing, a 10+ year HubSpot Diamond Solutions Partner and B2B technology growth agency, has the experience and expertise necessary to help companies transform their sales process and effectiveness with one of the most critical assets to run a successful and growing business: a company's Sales and CRM platform.

Let us help you develop a plan and streamline the process for a successful migration from your old and archaic CRM to an affordable, intuitive, user-friendly, game-changing, growth platform, HubSpot Sales Hub Enterprise. We did it and so can you!
How is your Sales and CRM platform transforming and growing your business? Schedule a complimentary Sales and CRM platform analysis with one of our experts.
Tags: HubSpot, HubSpot onboarding, HubSpot training, From Salesforce to HubSpot, customer engagement, Customer Relationship Management (CRM) platform, sales enablement, HubSpot Sales Hub Entperprise, sales optimization, sales process