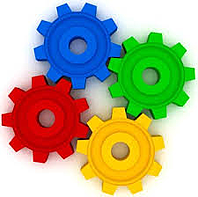 One of the best ways to get the maximum return on your marketing dollar is to invest in an integrated marketing campaign. An integrated marketing campaign does not need to be complex to be effective. It could simply mean executing an email blast backed by follow-up calling efforts. On their own, these integrated marketing tactics can be effective methods for reaching your target audience. Combined, these tactics can help you dive even deeper into the contact pool and discover warmer leads.
The effectiveness of the integrated campaign lies in creating targeted "touches" to prospective clients. If a campaign consists of an email blast and then a calling campaign, you may consider that to be two-touch approach to each prospect.
Integrated marketing plans can involve many combinations of tactics. Here are just a few examples of integrated marketing approaches that have been effective when complemented by messaging that is relevant to the prospect:
Emails that drive prospects to a landing page where they can download or sign up for an exclusive offer.
Promotes an event where prospects are guaranteed valuable information and often a complimentary meal while they learn. A calling effort after the event can be utilized to gauge feedback and give prospects a chance to learn more if they were unable to attend.
Website launch followed by a promotional email and landing page. The marketing tactics in this instance would serve to promote the new website and drive traffic there.
These initiatives add value to your marketing investments because they create impact and longevity for sustained business. Prospective clients are more likely to remember your name, logo, and offerings if they have seen them multiple times, represented through different mediums.
How have you evolved your online marketing initiatives to be more integrated? Give us your feedback below!
Tags: advertising