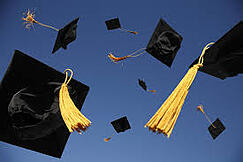 Has the time come for colleges and universities to expand their curriculum to include marketing automation courses? B2B marketing companies would love to see it happen. Understanding marketing automation—which is about connecting technology, sales, and marketing through a single interconnected system—is integral to understanding today's marketing landscape.
For instance, with the evolution of automation and analytical solutions, the modern marketer is as much as tactician as a strategist. The ability to tell a brand's story will be just as important as the knowledge of how to measure its impact. Moreover, you have to understand how to work across different disciplines and channels—including emerging social media platforms. These are all areas of marketing automation that haven't quite reached marketing students.
Lauren Carlson of the software review company Software Advice recently sat down with three marketing automation technology experts to discuss the skills necessary for success in the field today. In the video below, the panel discusses what colleges should be teaching marketing majors to prepare them for success in marketing in 2013 and beyond.
Here are some highlights from the roundtable discussion:
"We are moving to the more social and personalized web," says Kipp Bodnar, Inbound Marketing Strategist at HubSpot. "Everyone wants a personalized experience. We need to teach people to tell great stories, and how to look at data from a marketing perspective."
"It's the people in the hard sciences: the math majors, physics majors, economics majors," says Adam Steinberg, Segment Marketing Director at Silverpop. "If I was advising a student today, I would advise them to load-up on the most math possible."
"I think this is actually the perfect time and space for marketers who have grown-up taking Ritalin," jokes Eric Holmen, SVP, Marketing & Sales at Silverpop. "You're best suited if you're able to see a lot of things—jump on this, jump on that...it's somewhere between being scatterbrained and a machine head."
"When we bring in interns, who have some marketing automation awareness...they really have no idea," says Holmen. "We have a product certification program that our interns will jump into. They're blown away because to them, it ties together all the things they've learned in college."
"I think the perception of marketing automation today is broken," says Bodnar. "If you really think about marketing automation, it's not just 'sending better emails.' It's where a machine can solve a problem that is far more efficient than a human can. I think it's more about getting students to think that way and help them understand what is possible technically."
"Universities train you to be a marketer to run ad campaigns and get very good at that," says Steinberg. "But if you're a student and you can get a lot of experience within your major or within your extracurriculars working across teams and disciplines, that will prepare for you a very highly technical—yet creative—role."
What other skills are important for success within marketing today? In your opinion, what should colleges be teaching marketing majors? Leave your thoughts and comments below!
Tags: advertising, HubSpot