HubSpot's New Add-on Tool to Test That Theory
In the social media marketing world, it is no secret that organic reach is falling. Brands now reach between 2% and 6% of their fans organically. I don't need to tell you about how bad that is. Marketers need to stop thinking about social as free. Paid, owned, and earned social are no longer disconnected. Rather, they are three legs of the social marketing stool. If any one leg is missing, this stool cannot stand. This evolution of social media marketing contains a new set of best practices for using paid social media strategy that links the three legs together.
Did you know that 53% of HubSpot customers have tried paid ads this year? Were you one of the businesses who use LinkedIn to reach a targeted professional audience of over 111 million? If so, you are probably frustrated with the limited reporting available. Sure, you can get impressions, clicks, social actions, and click spend, but in this age of data, that is woefully inadequate for a marketer.
Another problem has been that if you want determine whether the A version or the B version of your ad is resulting in more clicks, it can turn into a bit of a logistical nightmare with the amount of tracking URLs you have to set up.
To solve these growing problems, the HubSpot team sat down to create an integrated platform for creating smart ad campaigns directly from the HubSpot platform. Using the new HubSpot Ads Add-on, you can create an ad campaign for paid search queries, build it within the platform, preview the ad's appearance, set a campaign budget, and set the target audience for the campaign.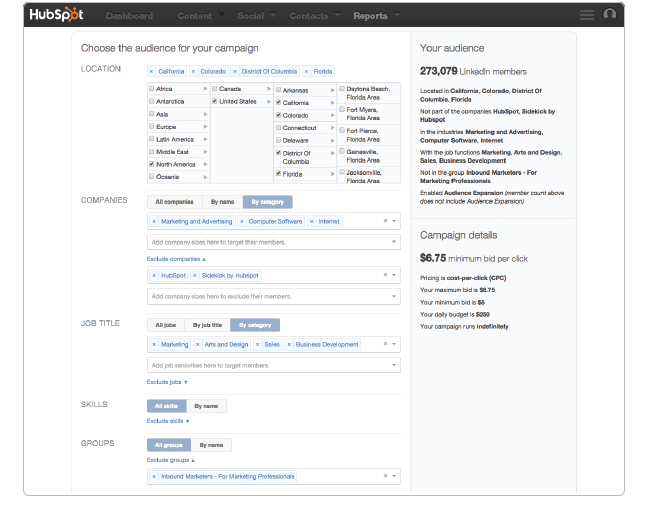 In addition, the new Ad Add-On allows you to view a comprehensive ROI visualization of the data from each campaign, including the number of impressions, clicks, and conversions you receive. And you'll be able to see how many clicks became MQLs and how many MQLs became customers. The reporting also ties directly into the HubSpot CRM, showing you the actual dollar amount you brought for each ad campaign spend.
With existing reporting tools operating in a silo since they are not tied into HubSpot, this new tool goes two steps further to solve the ROI problem. It illuminates how many of those conversions turned into MQLs and how many of those MQLs turned into customers. In addition, it shows you the actual revenue gained from the ad spend. By combining HubSpot's intuitive interface with the data collected, you now have a unique closed-loop view of ad campaigns' performance.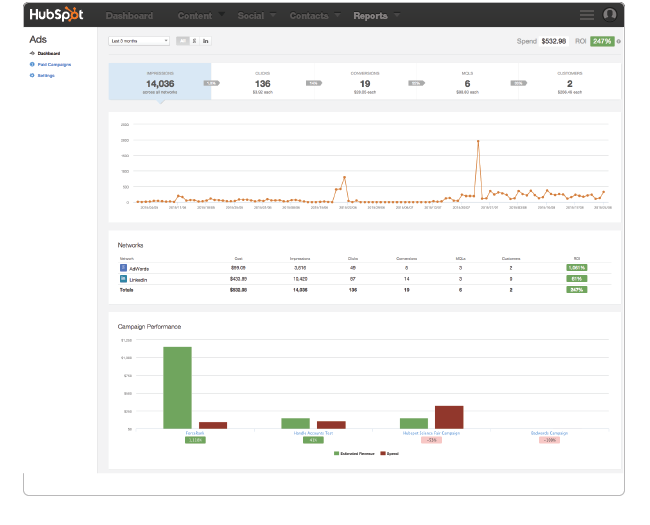 This was just rolled out at #INBOUND15, so it's very new and is only currently available for LinkedIn, with Google Adwords in beta.
We think that this additional data and reporting will help clients see the benefit of paid social media campaigns. Soon, instead of guessing, we will soon know that if we spend X amount on paid media, you'll get X amount of customers. Want to make your social media presence stronger? Consider using HubSpot's new Add On Tool now!
Tags: advertising, social media marketing, Inbound Marketing