How to go to market without losing your mind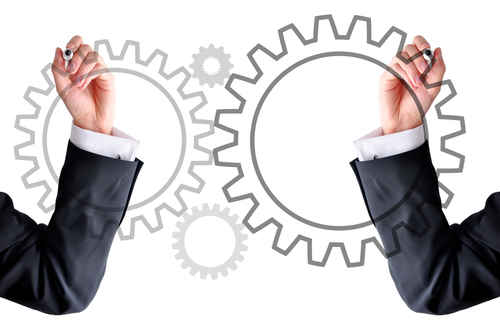 I've had the pleasure of working with a number of original equipment manufacturers (OEMs) and channel partners over the years to help them create joint go-to-market plans. It is always fun to experience the energy and enthusiasm as two teams get together to build out a channel marketing plan aimed at mutual success. It is even better to see those plans turn into measurable results.
It's all about alignment.
One of the most overlooked factors in joint planning is developing a deep understanding of how the alignment of two or more parties impacts marketing plans. All partnerships should have shared goals and shared success. However, the overlap of the two parties' interests and needs is what creates the alignment necessary for a successful joint marketing plan.
Think of this as two overlapping circles.
In some cases, the circles overlap a great deal (say 75%), which indicates strong channel alignment. For other cases, there is just a sliver of overlap (say under 25%) with a weaker alignment. In many cases, OEMs have overestimated their alignment with their channel partners, a situation that oftentimes leads to plans based on incorrect assumptions.
For joint marketing plans to be the most successful, it's important to understand the critical areas of alignment. Below are four areas of alignment that you should consider when working with OEMs and channel partners.
1. Economic Alignment
Economic alignment can seem simple, but can be easy to overlook. This type of alignment has to do with how you and your channel partner both make your desired financial goals. To determine what each party has achieved in terms of profits and margins, I recommend mapping one or more deals out in detail by analyzing each financial element. From there, ask yourself the following questions to understand where your channel partner is coming from:
Do they make their margin on services supplementing your product or directly from your product itself?
What percent of their total margin comes from selling your product versus their services?
Do they sell their own services before, during, or after selling your product? (Or some combination of the three?
There is no right or wrong answer to these questions, but any joint marketing plan should take them into account. For example, if your partner makes most of their margin well after your product is sold, more sales support may be required as part of the plan. On the other hand, if selling your offering is critical to the success of your partner, their sales team should be asked to invest more effort into following up on leads.
2. Net New, Upgrade, Cross Sell, or Account Maintenance Alignment
OEMs should clearly define what their objectives are when developing joint marketing plans. This may include the OEM wanting to sell to net new customers, sell new offerings to existing customers, or maintain or upgrade an existing install base. If the OEM has a goal of selling to net new customers, the discussion with the channel partner should focus on the goals of the reseller.
A deeper discussion could pertain to the sales staff of the reseller – including how their quota is structured and how they get paid – as teams can be optimistic about what they can accomplish. If they achieve most of their quota from existing accounts, then it's less likely that they will invest the time required to progress and close net new sales opportunities. Solving this alignment issue is crucial before moving forward with a plan.
3. Sales Cycle Alignment
If you are working with an OEM that has a big-ticket item, your joint marketing plans need to account for the sales cycle and sales process. For example, your channel partner might sell a low dollar value assessment or consultation prior to selling your offering to a net new customer. Alternatively, they may sell a smaller product of yours before making a larger deal.
In either case, make sure your plan pushes for that wedge offering sales. Measure the conversion of those customers to larger deal roll outs. Make sure your plan considers the timing implication of this sales cycle.
4. Business Focus Alignment
There are some partnerships with strong economic alignment, but the reseller has little motivation to sell net new accounts. Typically this is because the reseller achieves their desired profitability and wants to utilize their time for their own purposes, as opposed to going after net new business. These businesses may even have trouble cross-selling new offerings into their install base. These "lifestyle" businesses are fine for maintaining an install base, but are not the ones you want to invest in for net new activities.
I hope this helps as you develop your joint marketing plans. Starting out the discussions by understating alignment will help you build on the right foundation for business cooperation and growth. Check out our marketing and sales goal planning worksheet to get started on a fool-proof plan today! And don't forget to comment below to let us know about your joint marketing plans and ideas!
Tags: B2B Marketing, Channel Marketing, Channel Partners, B2B Marketing Strategy