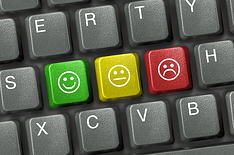 We know that the business climate is changing. Technology is shrinking the planet by keeping a world of people just one click away. With rapid technology growth comes new strategies and trends in business and marketing. This has made business easier, but the difficulty is trying to keep up. Just like everything else, trends come and go.
The following tips can help your company stay ahead of the curve:
Companies need do their homework. The internet is filled with lists of top companies in each industry. Most of these companies will have blogs on their website. I've discussed before about how companies use blogs to market themselves; industry leading corporate blogs will have great, innovative marketing strategies within their blogs. Make sure you follow them - Google has great tools that allow users to follow blogs and websites. You will be notified whenever an update is made to a followed blog, always keeping you current.
Staying abreast of current events. Google allows you to collect RSS feeds to deliver breaking news to one location 24 hours a day. To keep your company current, stay up to the minute with the latest events. If a natural disaster hits, be the first company to set up a relief fund. If something major happens in the news, offer an opinion on it right away. The information age moves at warp speed. Thirty minutes ago might as well be last year. Never get left behind.
Keep prospects and customers happy. One easy way to accomplish this is to keep the look and feel of your website, Facebook page, twitter account, and any other content based platform fresh. A website with the same look becomes stale and boring after a few months. An outdated look can drive away traffic. Try to add new graphics ever couple of months. Add a new feature to your site. Create a poll and post it to Facebook and twitter. Depending on the topic, you might be able to get a handle on what your potential customers care about, which can in turn help you market to new customers.
In today's tough economy, marketing is more important than ever. In a crowded marketplace, companies need to stand out from their peers just to survive. Don't fall to the back of the pack. Stay current and become a leader, not a follower.

Tags: advertising