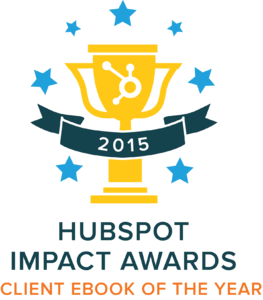 Hubspot Awards TSL with Impact Award for Best Client eBook
We don't take the opportunity to talk about ourselves much here, but for this we'll make an exception.
We're absolutely thrilled that at "Inbound 2015", TSL was recognized as having the client eBook of the Year. We're always proud of our work, but this level of industry recognition was very humbling.
eBook of the Year
Many of our clients are in the technology sector. As you might imagine, it's sometimes hard to make technology marketing sexy. But the winning submission was a perfect marriage of technology with creativity. We knew that this was one of the best pieces of content that we created in 2015. It gave us an opportunity to pull together our creativity and think outside of the typical IT marketing box.
Here's the submission in case you haven't seen it.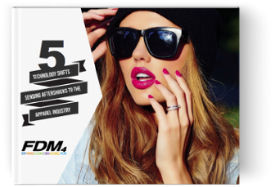 Gratitude
Every single day, I'm WOWed and delighted by our team of inbound managers, designers, and copywriters. I see the hard work and commitment they put into their craft.
I'd like to thank the entire FDM4 project team for their commitment to excellence on this project.
Devesh, your copy here is some of your strongest. I'm grateful for your grasp of technology and your ability to make even the most technical topics accessible to the reader.
Kelly, your design is what makes this eBook stand out. This content has your distinct touch. You continue to impress our clients by turning their concepts and visions into design reality. I'm thankful that you are a part of this project.
Austin and Vanessa, thank you for your leadership and guidance on the FDM4 project. Your project management skills through this project helped to bring us this award-winning content. I'm grateful that we have team members like yourselves who are committed to WOWing and delighting our customers.
We'd also like to give a shout-out to the team at FDM4 for allowing us to submit their work for consideration.
More Gratitude
We were also runner-up for best client blog series. You can view the success story here.
Nick, Austin, Devesh, Katherine, Torie, Vanessa, Rachael, and Noah. Thank you for all of you what you've done to make Oxford's blogging efforts successful. Thanks to Rob and Paul at Oxford Networks for all of the work they've done to make the Oxford Tech Tuesday Blog stand out.
Inbound
These awards have certainly been highlights of our experience at Inbound. Many of our SMART managers made the trip to Boston to take part in the sessions and training. The keynote addresses inspire and motivate us every year to go back and build better marketing content for our clients.
We take pride in knowing that our work is among the best work being built in the Hubspot Partner ecosystem. You can read about our relationship with Hubspot.
If you would like to see another great eBook from TSL, click the banner below to find out how we help our clients combine the powers of inbound and outbound marketing to create remarkable outcomes.