Google Analytics 4 (GA4) is replacing Universal Analytics (UA). On July 1, 2023, all standard Universal Analytics properties will stop collecting and processing data.
This means that it is critical to migrate your current UA property settings to GA4 or you will begin to lose data on July 1, 2023. It is strongly advised that you make the switch to GA4 as soon as possible to avoid experiencing gaps in your SEO data.
We want to share some basic must-know information about the upcoming switch and offer a few steps that you can take to ensure that your data is protected.
What is GA4?
GA4 is short for Google Analytics 4, the newest version of Google Analytics.
Universal Analytics is the current version of Google Analytics that was announced in 2012. According to BusinessDIT, there are approximately 28.1 million websites currently using Google Analytics in 2023.
What is the Difference Between GA4 and UA?
If you have a website for your B2B Tech Company, chances are you have Google Analytics set up to help you better understand how customers and prospects are using your website so that you can create the best experience possible for them. The insights provided by Google Analytics are valuable and help businesses make data-driven decisions about their marketing strategies.
The current version of Google Analytics, Universal Analytics, refers to a basic unit of collected data as a hit.
The two most common hit types in UA are pageviews and events.

For other interactions, such as video views, file downloads, clicks, etc., you need to generate an event, which is monitored via event tracking.
Google is moving to GA4, a more intelligent solution, to help businesses gain a better understanding of their customers across all devices and platforms.
GA4 is based on a different kind of event, and it offers a more flexible way to collect data.

GA4 has implemented machine learning to ensure that Analytics data continues to be reliable even in the face of industry changes such as updated cookie and privacy policies.
Per Google's original product announcement, here are some of the improvements we'll see with Google Analytics 4:
Smarter insights that can automatically alert you to significant trends in your data, thanks to machine learning.

Access to new predictive metrics to help you anticipate future actions your customers may take.

Deeper integrations with Google Ads and other Google marketing products.

Customer-centric measurement vs. the old way of tracking that was gapped due to device or platform.

Better understanding of customers across their entire lifecycle, from acquisition to conversion and retention.

Increased controls for ads personalization.

Built for the future and ready to adapt to changes in how we track, store, share, and use data.
Challenges & Benefits of GA4 for B2B IT Companies
GA4 Challenges
This is the first major change that Google Analytics has seen in many years. With this unprecedented shift comes the need to dedicate time and resources to learning about how to best take advantage of what GA4 has to offer.​

Migrating to GA4 can be a challenging and time-consuming task. Extensive data histories and customized tracking add to the level of complexity. ​

Businesses that fail to migrate to GA4 risk losing their incoming data and analytics, meaning that they no longer will be able to monitor performance and make data-driven decisions that rely on analytics.
GA4 Benefits
Track metrics more accurately

View insights into how users interact with your brand across multiple devices

Gain AI-generated insights

Ensure stronger privacy protections vs. what was available for Universal Analytics

Is Your B2B Tech Company Ready for the GA4 Migration?
If you have Google Analytics set up on your B2B IT website, you likely have received a doomsday-esque countdown notice from Google like what is pictured below, encouraging you to make the switch to GA4 as soon as possible.
GA4 countdown notice as shared via email communications from Google: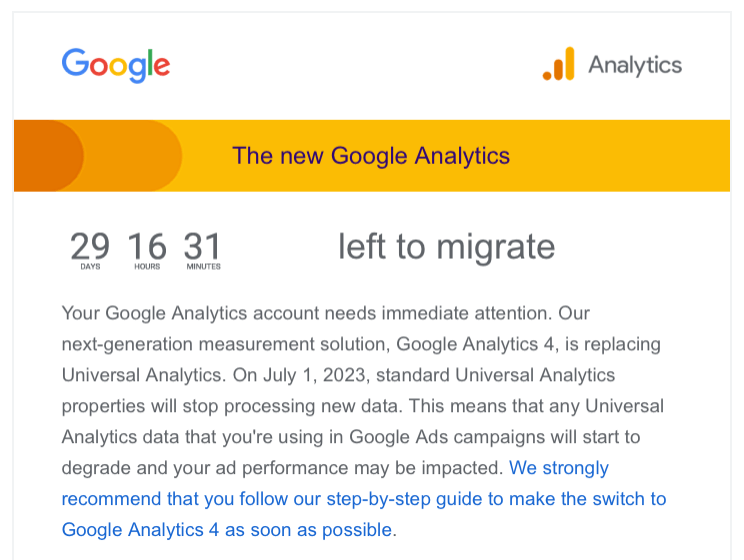 GA4 countdown notice as seen from within Google Analytics: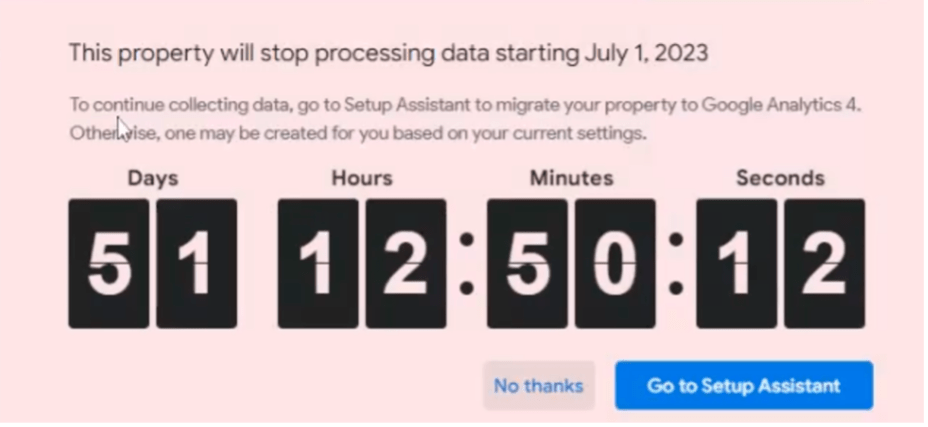 If you are responsible for managing analytics and SEO for your B2B Tech company, there is a step-by-step guide offered by Google to help you get set up. They also offer several video resources, including this 18-minute video that walks you through how to set up and migrate to GA4.
We recommend you follow the steps outlined as soon as possible, and don't save it for the last minute, as some of the steps require a few days to complete.

Google's walk-through video detailing how to migrate to GA4

GA4 Migration Checklist for B2B Tech Websites
Here is a quick list of the items that you need to be sure to address prior to July 1, 2023, to ensure that your Google Analytics account is set for the GA4 migration. You should use the Google Analytics Setup Assistant to complete the GA4 setup tasks as follows:
Data Collection: Collect website and app data

Property Settings: Turn on Google signals

Set Up Conversions: Identify the key user interactions most important to your business and import goals from an existing property

Define Audiences: Find, group, and remarket to your most engaged visitors using the GA4 Migrator tool for Google Analytics

Link to Google Ads: Connect to your google ads account so your GA4 audiences and conversion-event data are exported to Google Ads

Manage Users: Confirm which users have access to your Analytics account
Import Data: Enhance your reporting with more data sources and link to Big Query to search and manage large analytics data sets.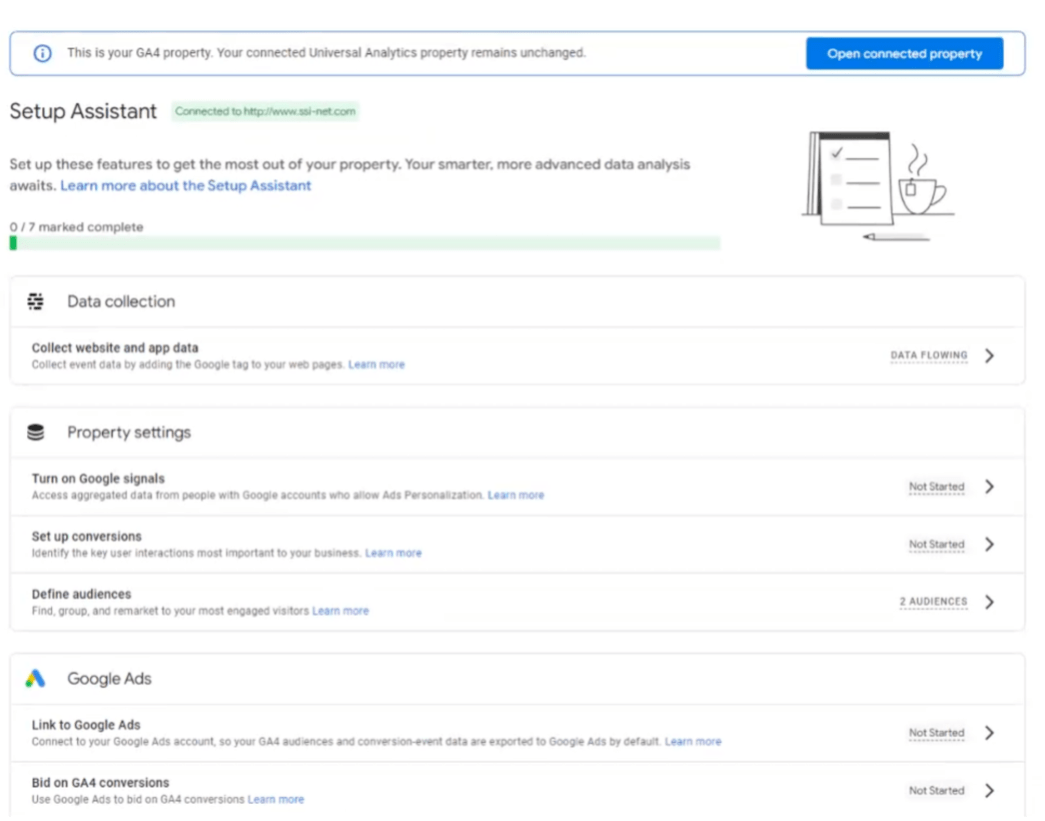 GA4 Resources
Here is a list of the helpful resources that have been mentioned in this article for easy reference.
Other GA4 Migration Notes

for B2B IT Companies
There are a few key notes to keep in mind as you proceed through getting your GA4 property set up prior to the July 1 deadline. If you do not act, Google will automatically act on your behalf. It is in your best interest as a B2B Tech Company to take the reins and customize your setup vs. letting Google make generic updates for you.
If you haven't already created a GA4 property, Google will create one for you.
This new property will be based on the settings in your Universal Analytics property.
If you have created a GA4 property, and that property is connected to a Universal Analytics property, Google will copy over any configurations (e.g., goals, audiences, etc.) from your Universal Analytics property that you have not marked as complete in your GA4 property.
It's important to note that when Google copies over goals, it's not a 1:1 copy, so it's likely any destination goals – or even event goals – won't track properly in GA4 if they are not copied over manually.
You can avoid this by completing the tasks manually in Google Setup Assistant (see section above).
Until July 1, 2023, you can continue to use and collect new data in your Universal Analytics properties.
After July 1, 2023, you'll be able to access your previously processed data in your Universal Analytics property for at least six months. Google will provide updates as to what date existing UA properties will no longer be available.
If you created your Google Analytics property before 10/14/2020, you are likely using a Universal Analytics property, so action needs to be taken.
GA4 will only hold data for 14 months on the free version.
Avoid Disruption to Your B2B Tech Website
TSL is currently in the process of making the switch to GA4 for our SEO & PPC customer accounts. Our white-glove migration plans are tailored to our customers' specific needs and provide a customized setup prior to the looming July 1st deadline. Our goal is to avoid disruption to data collection and ensure that all the setup steps are completed.
TSL's GA4 Strategy is broken into 3 Phases:
GA4 Setup & Configuration

Historical Data Transfer & Plan


Ongoing GA4 Optimization
If you need help with your SEO and GA4 strategy, consider working with an expert digital agency like TSL Marketing.
Meet with a Growth Expert to Discuss Your SEO & GA4 Migration Strategy
Tags: SEO, Google Analytics, Website, MSP SEO, GA4, Google Analytics 4, MSSP SEO