ICYMI, we just launched our first technology integration after years of serving B2B technology customers with our digital marketing and sales services.
Introducing Integrates.io, a premier integration solution for ConnectWise and HubSpot users. Powered by IntegrateHQ, Integrates.io is a cloud-based data sync solution for effective closed-loop reporting.

But what does this really mean for your business? Here are 5 reasons why you should consider adding Integrates.io to your technology growth stack.
Click here to go straight to the integration platform comparison chart!
Reason #1: Efficiency
When it comes to your business, time is of the essence. The systems you choose should not only be efficient, but also accurate with the information you need. With Integrates.io, you now can bi-directionally sync your HubSpot and ConnectWise data, including contacts, companies, opportunities/deals, owners, and activities. In other words, you no longer need to update both platforms — once you update one, the other is automatically updated. The linkage between the two is now there, eliminating the time spent on manually entering data so you can focus on your sales and marketing endeavors.

Reason #2: Clarity
The technology world is a fast-paced and constantly moving one, so having everything you need at your fingertips to make business decisions is crucial. With Integrates.io, you now have all the data for critical business systems at the ready, so you know exactly what is working and what is not from a sales and marketing perspective. Being able to sync your data in one place allows you the freedom to gain insights more easily, giving you the information you need to make moves.
---

"When stacked against comparable programs, Integrates.io provides additional features, such as live support vs. email ticketing and more data-sync options — for a lower price."

---
Reason #3: Pricing
Let's face it, you want to get the best value for your business systems without breaking the bank. You also want to ensure that the technology works before making a huge investment.

With Integrates.io, you're in luck. When stacked against comparable programs, Integrates.io provides additional features, such as live support vs. email ticketing and more data-sync options — for a lower price. We also have personalized demo options available to answer your specific questions, along with an initial setup and integration session with the Integrates.io team, to guarantee your data is properly mapped and bi-directionally synced.
---
The Benefits of Integrates.io

This chart offers a quick comparison of other integration platforms' features and functionality as compared to Integrates.io.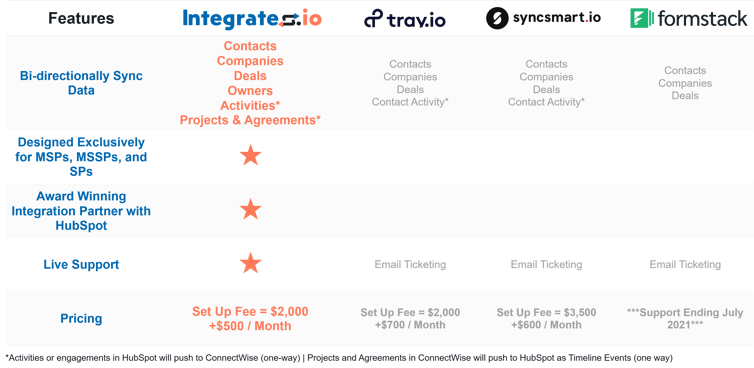 ---
Reason #4: Credibility
As a HubSpot Diamond Solutions Partner, TSL Marketing understands the importance of "a single source of truth" to guide critical business decisions. We've seen first-hand the power of using data insights to determine what's working from a marketing and sales perspective so you can provide a return on ROI. We've spent over a decade harnessing the power of HubSpot and incorporating what we've learned to help enterprise-level clients. And with award-winning HubSpot Integration Partner IntegrateHQ powering this product, we also have the chops and the team to back this all up. Essentially, we've assembled the HubSpot-powered dream team in order to help B2B technology customers.
Reason #5: Exclusivity
Integrates.io was the direct result of listening to MSP, MSSP, and SP customers share over and over again the need for a ConnectWise and HubSpot data integration, and we responded with gusto. Your feedback was crucial in setting up the interface, and our proof of concept was tested by a top MSP to ensure everything you need was included.

And we plan to continue with this process. Give Integrates.io a try, and let our team know how we can continue to improve the integration. After all, our customers are the reason Integrates.io exists in the first place — we want to continue to serve you.
Get More Information About Integrates.io in 20 Minutes
Tags: HubSpot, integrates.io, HubSpot integration, ConnectWise