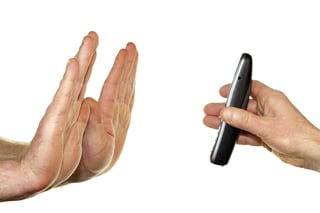 Every medical sales professional knows that getting prospects on the phone can be the toughest part of the job. In the medical device industry, your future customers are busy professionals and their time is well protected. You're undoubtedly familiar with some of the most common obstacles in the path to making contact:
The Gatekeeper:

Doctors, clinic administrators and other healthcare professionals often have someone else picking up their calls—and part of that person's job is to protect the boss's time.

Sales calls may be an automatic weed out; even in the best of circumstances, you'll have to talk your way past a vigilant guard.
Voicemail: Some busy professionals don't pick up the telephone at all, allowing calls to go to voicemail while they remain focused on the task at hand.

Of course, not all telephone calls are returned. At best, you're likely to be prioritized low and receive a return call if and when time allows—if that happens before you drop off the radar.
Caller ID: Even those professionals who sometimes pick up their own telephones typically don't do it blindly. Caller ID is a powerful tool for picking and choosing which calls to take, and neither sales calls nor unfamiliar numbers tend to be high on the list.
Even if you catch a prospect on the telephone, he or she may well attempt to put you off to a later date—and that subsequent contact may or may not happen. Well-planned and high-quality content marketing materials can warm up the prospect, helping move her along the pipeline toward a sale without your direct participation and making her more amenable to taking the time to speak with you.
Connecting with Your Health Care Prospects through Content Marketing
Content marketing materials play a significant role at each stage of the sales cycle.
Before you make contact, putting those materials out into the world via your website, your blog, social media and other outlets allows your prospects to begin their research and familiarize themselves with your company, your products and your expertise.
After the prospect becomes a lead, your marketing team can employ an automated marketing system to keep in touch with the prospect, build credibility and warm him up for the sales team.
Once the lead becomes sales qualified, your sales team can make effective use of content marketing materials to answer prospect questions, avert obstacles and share success stories, reviews and other pertinent information.
Naturally, a prospect who is familiar with your company and has been impressed with the information you've shared is more likely to pick up the telephone when you call, or to instruct his gatekeeper to schedule an appointment if he's not available to take your call. And, those prospects will have already worked their way further along the pipeline, reducing the labor involved in moving them from prospect to paying customer.
Content Marketing and Cold Calling
While the traditional content marketing path begins when prospects see your content in social media or visit your website and conduct their own early research, sales teams making cold calls can also make effective use of these materials. For example:
When a prospect picks up the phone, but says that he doesn't have time to talk, ask for permission to send some materials via email. If the prospect is interested but truly too busy to talk in that moment, the content will help warm him up for your next call. And, if he's not yet interested, those materials may spark his independent journey.
When you reach voicemail and have an email address available, indicate that you're following up with some materials by email or over another channel like LinkedIn and will attempt to reach the prospect again when he's had the opportunity to review.
When you can't get past the gatekeeper, get his or her permission to send over materials via email or social channels. Of course, there's no guarantee that the prospect will review those materials, but it's another avenue through which you can make it easy for him or her to learn about your company and your product in the early stages.
Making initial contact can be one of the biggest challenges for B2B sales representatives. With a strong content marketing strategy, you can draw those prospects to you instead of chasing them down.
Our team is ready to assist you in handling the entire lead life cycle from lead generation to close. If you're looking to build out your marketing efforts for the digital age, then we want to be a part of your team. Reach out to us today for an initial consultation.
Tags: content marketing, medical device marketing, medtech, medical sales, medical marketing, sales and makreting