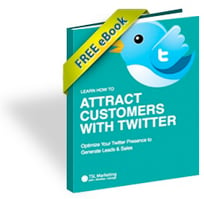 The biggest mistake marketers make with Twitter is not realizing its full potential as a way to bring in more revenue. With this eBook you will learn how to attract customers with twitter and use this powerful social media tool as a way to generate leads.
With a foreword by Laura Fitton, the author of "Twitter for Dummies," you will learn how to use the social network to drive real business results.
Discover the different stages of optimizing your Twitter presence for attracting leads and customers.
Learn how to:
Optimize the branding of your twitter profile
6 steps to optimize twitter for search
Twitter etiquette for business
How to measure the ROI of Twitter
Get a jump start your lead generation strategy with Twitter
Note: Some of the content in this eBook is slightly dated. We realize as a marketer different mediums are constantly changing and evolving. While we are working on a V2 of this eBook we also recognize that a great deal of this information is still very much relevant. Therefore please enjoy and be on the lookout for a more recent version coming soon!