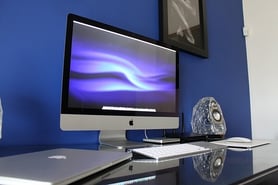 So you've convinced your CEO that a more aggressive content marketing plan is the best way forward. Congratulations, you're ahead of the curve. It's no wonder. With the Physicians Payment Sunshine Act now in effect the old methods are becoming more and more outdated, if not completely ineffective. Doctors and hospitals are going to have to think twice about even accepting a dinner meeting with a medical sales rep, let alone accepting honorarium for speaking. Although transparency really is the best policy, what surgeon wants a public record available of who he decided to dine with?
Love the Sunshine Act or hate it, it's here. Sales reps aren't going to go away, unable to effectively perform their job due to some new law. No. The best ones are going to adapt quickly and find new methods that work in this changing environment.
We already know that:
57% of the purchase decision is complete before a customer even calls a supplier.
78.6% of sales reps who use social media outperform those who don't.
40% of LinkedIn enthusiasts generated revenue on the site vs. only 18% of all sales reps.
The New Tools of Effective Medical Sales Reps
It's your job as a marketer to provide your sales team with compelling, remarkable content in order to help them sell more effectively. While that may not be breaking news there is one more step you may be forgetting, helping them use the great marketing content you've produced in the most effective way possible.
Social Media and Social Selling
It won't be long before social media will just be thought of as a natural extension of our marketing efforts. Today's graduates, who have grown up with social media as a fact of life, will become tomorrow's sales people and buyers.
Since we know that sales reps who use social media outperform those who don't, our job as marketers becomes making it as easy as possible for the sales team to communicate with our prospects and customers as seamlessly as possible, a process that is taking place on social networks more than ever. Get your sales team up to speed on these tools and you'll not only make your marketing content more effective, you'll look like a rock star in doing so.
HubSpot's Social Inbox
On August 21 at the Inbound 2013 meeting HubSpot announced a new product, the Social Inbox. You can now create streams of social updates and separate them by demographic data and their current relationship (visitor, lead, customer) with your company.
For example, you could create a stream made up entirely of your company's leads and monitor that stream, automatically, for important words like bone graft or cardiac ablation or the name of your company. Then wait and be notified when a lead mentions those keywords on social networks.
Not cool enough? OK, you can also assign these leads to your sales reps (with a CRM integration) and automatically (automagically?) send an email to your sales rep when that lead mentions those keywords you entered. Now it's up to your sales rep to reach out in a helpful way and provide some educational content.
Boom!

Nimble Social CRM
Looking for a CRM app that will help your sales team communicate with leads and customers across social platforms? Look no further than Nimble. Nimble calls itself a Social CRM. While that term may become ubiquitous, Nimble has some real staying power. Your medical sales reps will be able to keep track of conversations with prospects across most any social network and reply in the appropriate venue.
Nobody wants their sales reps spending all day on social media, with Nimble the time commitment is drastically reduced.
Pow!

Contactually
Contactually is a CRM tool that is designed to help a sales rep stay top of mind in order to gain more business. It works right in iPhone, Android, Gmail, Outlook, Salesforce and web. Contactually helps sales reps keep track of who to follow-up with and provides easy reminders so nothing falls through the cracks.
Also helping reps manage the right time to follow-up, Contactually is a powerful new tool you can recommend to the sales team so that they can follow-up and send out your great content.
Wow!

Signals
You've put forth enormous effort in creating content that is sure to move your prospects along thier journey toward becoming your customer. You've met with sales, learned what they need, produced it and helped them learn the best ways to use your marketing content.

And then a sales rep emails one of his leads with a fantastic eBook as a reference. Until now he has had no way of knowing if that email was received, ignored or deleted.
Enter Signals. Another HubSpot product release at Inbound 2013, this is a simple, free tool that alerts the sales rep as soon as that email is opened. He can even see if a link was clicked on, shedding light on just how engaged that prospect is. Thisprovides unparalleled insight into when that rep should pick up the phone and call, or what to talk about the next time he sees his potential customer in person.
Holy cow!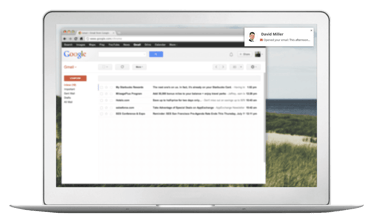 Web Conferencing Tools
Giving presentations, product tours and tutorials remotely has gotten much easier over the years. GoToMeeting continues to rule here but upstarts like Join.Me have grabbed some attention.
Google Hangouts is sure to become a sales tool as it enables group video conferencing and robust online conversations that include photo and document sharing.
Assemble a panel of thought leaders and stream the discussion for the world to see or conduct sales presentations one on one and share content right in the stream of the conversation.
All of these tools are designed to make a medical sales rep's job easier and more effective in this increasingly digital time. The key for marketers? Develop remarkable content and enable the sales team to share it appropriately.
Our team is ready to assist you in handling the entire lead life cycle from lead generation to close. If you're looking to build out your marketing efforts for the digital age, then we want to be a part of your team. Reach out to us today for an initial consultation.
Tags: content marketing, medical device marketing, medical device sales, medtech, medical content marketing, healthcare device sales, social inbox