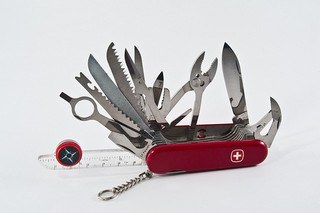 As word spreads about inbound marketing more and more people understand that it truly is the way to earn consumers' attention in the "digital citizen" era. I am lucky to have opportunities to talk with physicians, surgeons and office staff about inbound medical practice marketing and in doing so I have learned one thing, not all practices have fully embraced social media up to this point.
Gurus and Wizards and Ninjas, Oh My!
That's not to say I don't understand why. There is simply too much "advice" out there along the lines of, "If you just get on facebook your practice will grow!" This advice is typically doled out by "social media experts" of which there are now approximately 181,000 as of the last count.
They would have you believe that because someone likes a photo on your Facebook page you will get a rush of new patients looking to spend $40K on a new smile or rejuvenated face.
Poor advice aside, the fact remains that an active social media presence will greatly benefit a medical practice inbound marketing campaign. We know that:
Having a robust online presence IS a must and this is accomplished using inbound marketing techniques, of which social media is one component. The interesting thing about using inbound marketing software (we use HubSpot) is that it enables you to see exactly what impact social media is having on your marketing efforts. No more guess work.
I say all this to make one point: if you're going to invest in inbound marketing it only makes sense to invest in building up a strong social media presence as well.
This investment can be in the time you or one of your employees spends using social media networks to market your practice, or this investment can be in outsourcing to an agency like TSL.
It is my opinion that if you are a single practitioner you are probably better served with someone in house handling social media instead of signing up for a social media plan from a marketing agency. Group practices with multiple offices may be better served hiring a social media agency for help.
The decision to handle this in-house can seem overwhelming. However, with the right social media tools and a little bit of willingness social media can become an important part of your marketing mix. Here are some of the tools that will make the job easier for your or your staff.
Best Social Media Tools for Finding Content to Share

Alerts- Google Alerts has been a go to source of content for marketers for several years now. You simply set up an alert for a keyword or company or industry that you wanted to follow and articles were automatically emailed to you at the frequency you chose. Unfortunately Google has seen fit to discontinue some services that a lot of people came to rely on and Google Alerts is getting the axe.
Luckily Talkwalker Alerts has a service to accomplish the exact same thing. Set up an alert for a topic in your specialty and you will get news and web articles emailed to you. Perfect for finding content to share on Facebook or Twitter.
Price: Free
Pocket- Pocket is a simple yet powerful tool for keeping content you want to share in one place. You simple install a little button on your browser (called a bookmarklet) and you can save any web page to Pocket with one click.
Spend a little time searching for content to share and keep it all in once place until you are ready to schedule it out on Facebook or Twitter.
Our team is ready to assist you in handling the entire lead life cycle from lead generation to close. If you're looking to build out your marketing efforts for the digital age, then we want to be a part of your team. Reach out to us today for an initial consultation.
Tags: medical practice, medtech, social media marketing, medical marketing