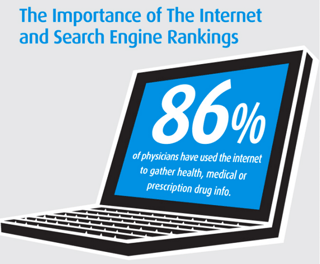 There has been a massive shift in the way consumers reach buying decisions. The effectiveness of traditional marketing tactics like print ads, direct mail and television commercials has been hamstrung by technologies like DVRs. Consumers now decide when and how they will engage with your brand.
It is now natural for a consumer to research online before making a purchase.
In a 2012 study, Cisco reported that 74% of consumers turn to the web before making a purchase.
This percentage, while already high, will continue to rise with the widespread adoption of smart phones.
How To Market To Doctors
The question for medical device marketers is: are doctors using online sources to research their purchases? Studies published by the CDC and NIH along with some compelling information from Google show that doctors are using the internet and social media to research purchases and health topics as well.
No longer are tradeshows, catalogs and sales teams enough. The companies who embrace inbound medical device marketing will separate themselves from the competition, generate more leads and dramatically increase revenue.
How to market to doctors? Your medical device marketing plan needs an inbound component.

Reaching Physicians With Search and Social - An infographic about How To Market To Doctors.
Our team is ready to assist you in handling the entire lead life cycle from lead generation to close. If you're looking to build out your marketing efforts for the digital age, then we want to be a part of your team. Reach out to us today for an initial consultation.