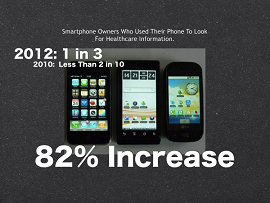 If your healthcare marketing strategy hasn't yet adapted to the the last major shift, the rise of internet marketing and social media, how will you adapt to what's next?
There has been an undeniable shift in the way people access, research and decide on their healthcare. Increasingly, the internet is the first place people go to research conditions, procedures and individual physicians. There are several things that need to be done by any healthcare practice to ensure relevancy:
Develop and maintain a website
Establish a presence on various social media websites
Blog frequently to increase the effectiveness of your website
Finally, as the statistic above demonstrates, ensure that your website is optimized for viewing on mobile devices.
Keeping your healthcare marketing strategy nimble will ensure that you are able to stay top of mind with potential patients and to get found at exactly the time they need your services.
Our team is ready to assist you in handling the entire lead life cycle from lead generation to close. If you're looking to build out your marketing efforts for the digital age, then we want to be a part of your team. Reach out to us today for an initial consultation.