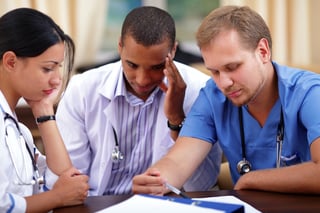 Humor us for a brief moment and imagine this scenario: the doctor's office where you work has recently decided to begin producing content as part of a new marketing strategy. You've read about inbound marketing and "getting found," so you think this is a great idea. Your boss asks you to run a new blog. You start writing and publishing posts on a consistent basis.
Now, answer us this: what are you doing, exactly? While writing a blog is certainly an element of content marketing, simply deciding your practice or healthcare organization should have one is not the same as having a content marketing strategy. After all, effective content marketing moves beyond the inbound goal of getting found: it's about what happens once new patients find you.
Can you "do" content marketing without having a content marketing strategy? Well, sure—it just might not be worth your time. Producing content for the sake of producing content probably won't get you too far with prospective patients.
What will help to earn the trust of your current and prospective patients—while further establishing your healthcare brand and reliability—is a solid healthcare content marketing strategy grounded in research and an understanding of your patients' needs.
What You Need to Know to Develop a Strong Healthcare Content Marketing Strategy
The best content marketing strategies for healthcare organizations are developed with your target audience in mind—in this case, current, prospective, and future patients. Here are five elements your healthcare content marketing strategy needs:
Focus: In order to use content for effective marketing, you need to know who the people are that you're "talking" to. Narrowing in on your target audiences in small segments can help guide your decisions and inform the type and quality of content you produce. To begin developing an effective content marketing strategy, pick one subsection of your target audience to focus on—perhaps the most prominent viewer of content that you have: heart patients, mothers of sick children, people interested in plastic surgery, etc. Once you have their focus nailed down, you can expand to focus on the rest of your target audience.

Context: Part of knowing your patient personas is understanding the context behind their situation. What will their concerns, questions, and interests be when they visit your healthcare organization's website? What will they want to see covered in your blog? What motivates them to seek your care? What are the pain points they bring to the table and what can offer to help solve them? Take the focused target audiences you determined in the first step and give their situation some context. Who are they and what do they care about?

Goals: In order to begin any healthcare content marketing campaign, you need to have a clear understanding of what you hope to gain from your prospective patients. When they visit your website and read your content, what do you want them to do? Determining the conversion actions that represent success to your content marketing campaign is a huge part of your strategy that helps to inform the content choices you make. Even if your main goals are "get more new patients" or "get current patients to remain patients," you need to develop smaller and more easily tracked goals for each stage of the patient journey.

Plan for Contact: Once you define your small benchmark conversion goals for each stage of the patient journey, you'll need a plan for contacting your prospective patients. When will you do it, through which medium will you do it, and what will you say? Bigger healthcare practices or hospitals might have automated email nurturing, but smaller practices might just be able to go straight to a phone call. Having a plan in place will help you be prepared to respond to your patient's interest in a timely and appropriate manner.

Plan for Production: A well-developed content marketing strategy for your healthcare organization will give you a pretty extensive to-do list, so having a plan for how you will manage to produce enough content to give your patients what they need is essential to keeping you from getting overwhelmed. Keep in mind that most content can be repurposed, repackaged, and recycled in different formats to give it a longer lifespan. For instance, you might write a downloadable eBook introducing your new patient portal, but that doesn't mean you can't also publish several smaller and focused blog posts on the same process. Creating a plan with your team helps everyone stay on the same page and keeps your content production running smoothly.
Why Your Healthcare Content Marketing Strategy is Important
Running a content marketing campaign without a concrete and well-researched content marketing strategy is like driving through a dark forest without headlights: you are bound to hit a few trees and get lost along the way. Though a strategy for your healthcare content marketing will take more time upfront, it will save you many headaches down the road and help get you where you want to be going.
Our team is ready to assist you in handling the entire lead life cycle from lead generation to close. If you're looking to build out your marketing efforts for the digital age, then we want to be a part of your team. Reach out to us today for an initial consultation.
Tags: medtech, social media marketing, medical content marketing, healthcare, healthcare content marketing