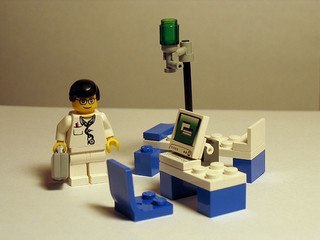 A new study suggests that 78% of salespeople using social media as a sales tool outsell their peers.

That's an impactful statistic. I'd argue that an underperforming rep is not going to just jump on "social media" and turn his fortunes around. The best reps realize that social selling gives them another channel to stay top of mind for their prospects and existing customers and they choose to be active where their customers spend their time. This information begs two questions:
Does this apply to medical device companies?
How are reps using social media to sell?
The answer to Question 2 may suprise you. The most successful sales reps have made the smart transition from the cold calling world (those who incessantly call prospects) to the social selling world - those who use content marketing to educate their prospects.
Consumers are not looking to be barraged by overly aggressive sales reps and ubiquitous technologies like caller ID, DVRs and pop-up ad blockers enable consumers to have greater control over when and where they engage with brands.
Does Medical Device Content Marketing Work?
On top of this data that social selling may help turn good medical sales reps to great, Last year Google, in conjunction with the Manhattan Research Group, released a study about the adoption of certain technologies by physicians. I've gone ahead and embedded the study below which contains some powerful statistics that confirms the necessity to develop a medical device content marketing strategy now.
2:1 = The Ratio of Time Physicians Spend Using Online Resources vs. Print When Making Clinical Decisions
If your business includes selling to office based physicians, or a hospital based approach where the physicians are a major factor in the purchasing process a digital content marketing plan is essential. Arming your sales team with boxes full of shiny new sales slicks is simply not as effective as it was a few short years ago.
Arming them with whitepapers, eBooks and blog articles that can be shared with prospects on sites like LinkedIn and Twitter is an effective alternative, or at least complimentary tactic.
Reps do better with social + physicians use digital resources more = easy decision.
More Doctors Start With a Search Engine Than Any Other Resource or Site
A content marketing plan comes into especially high focus after learning about this statistic. Google is increasingly updating its algorithm to reward high quality, original content. To consitently be found online a plan to publish regular blog articles and other types of content is essential.
The SEO of today has shifted from a series of on-page and back-end tweaks on a web page toward a more comprehensive approach that includes content and social media.
84% of all physician searches start with a condition
Since such a high volume of physician searches are for a specific condition a well optimized medical device content marketing will focus on producing content relevant to specific condition keywords.
87% of Physicians Use a Smartphone or Tablet in Their Practice
Mobile device use by doctors is very widespread. Your customers and potential new customers are constantly connected and have shown their willingness to use search as a major tool in making clinical decisions.
As a leader in your company you want to ensure that the sales team has all the tools necessary to excel. The best way to do this is to develop a content marketing strategy that supports their efforts and reaches your prospects in the new places they search for information.
Our team is ready to assist you in handling the entire lead life cycle from lead generation to close. If you're looking to build out your marketing efforts for the digital age, then we want to be a part of your team. Reach out to us today for an initial consultation.
Tags: content marketing, medical device marketing, marketing alignment, medtech, medical content marketing