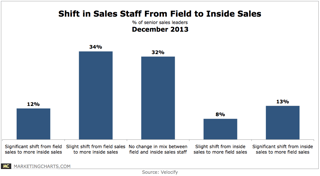 Companies across a wide range of industries are implementing changes to their sales team structures, and the medical device industry is no exception. The traditional field sales model is expensive and labor-intensive, and the changing habits of business customers have opened up new options.
According to a recent study by Velocify, twice as many of the companies surveyed were shifting from field sales to inside sales as were moving in the other direction. The primary reasons cited included increased focus on margins, the advancement of technology and buyer acceptance of the remote selling process. These factors were supported by the perception that inside sales representatives are easier to onboard, allow an organization to scale faster and enable increased all activity and selling volume.
Medical device sales is unlikely ever to switch to a strictly inside approach, but development of a strong inside sales team armed with the right training, materials and a lead generation program can enable a more immediate response to prospects and shift some tasks to the inside team, allowing a smaller team of outside sales representatives to do the work only they can do.
Today's Prospects Do More Research Up Front
The traditional outside sales model developed in an era long before the Internet, when contact between sales representative and prospect naturally occurred at the top of the sales funnel. However, today's prospects have more options for obtaining information and many prefer to do so on their own terms. The Digital Evolution in B2B Marketing report, based on research conducted by CEB Marketing Leadership Council in partnership with Google, revealed that the early stages of the sales process are no longer interactive. Their data indicated that 57% of the purchasing process takes place before the prospect ever speaks with a sales representative.
That means that in many cases, the introduction traditionally made by the outside sales representative takes place long before the company has even identified the prospect. The heavy lifting at this stage falls not to your field representatives or inside sales team, but to your medical device marketing department. We've already established that targeted, well-crafted content is an important part of any successful medical device marketing plan, and this is one reason: the prospect begins by working his or her way along the funnel without you. And, if you've failed to provide the content necessary to move him along the pipeline, you may find your company weeded out before you've ever had a chance to speak with the prospect.
The Advantages of Technology
Obviously, technology has played a key role in the shift described above. Prospects are easily able to conduct research via the Internet, from home or work computers, tablets and cell phones, "shopping" from anywhere they have time and access. And, your medical device marketing team has the opportunity to reach those prospects through a wide range of platforms, and to provide up-to-the-minute information on your company website, various social networks and other digital outlets.
Some sales professionals view the fact that so much of the sales process happens outside their reach as a negative, but the same technology provides the opportunity to make your medical device sales process more efficient and affordable. For example, with a digital content archive at their fingertips, inside sales representatives can fulfill some of the relationship-building responsibilities typically viewed as the field representative's purview. But, because they can achieve those connections online and using existing materials, they have the potential to contact more prospects and build more relationships than an outside sales representative could.
Technology also makes it possible for your inside sales team to remotely handle meetings that would once have required an onsite visit. Webinars and screen sharing capabilities mean that those inside sales representatives can conduct walkthroughs and make presentations that would once have taken place live. Then, your field team can focus on demos and situations which truly require face-to-face contact.
Inside Sales, Outside Sales, Marketing
I've talked before about the importance of sales and marketing alignment. When these three groups work together, your medical device marketing efforts can be more successful and more cost-efficient than you may have anticipated. As prospects begin to warm themselves up using your marketing team's online content, then inside sales representatives build relationships and smooth the path, the role of the field sales representative can become much more focused and less labor-intensive.
Our team is ready to assist you in handling the entire lead life cycle from lead generation to close. If you're looking to build out your marketing efforts for the digital age, then we want to be a part of your team. Reach out to us today for an initial consultation.
Tags: medical device marketing, medtech, medical sales, healthcare device marketing, healthcare sales, sales and marketing alignment