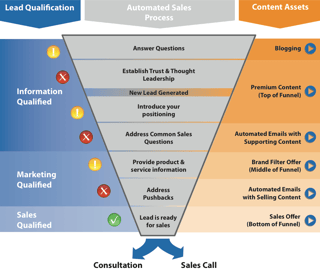 Creating a medical device marketing website that really does its job—that draws in prospects and moves them along the sales funnel to the point where your sales team can convert them to customers—requires a solid understanding of your customer base. Before you can build an effective content marketing machine, you must know what triggers the searches that bring prospects to your sites, what problems they're looking to solve when they arrive and what questions are on their minds. That's why our first step in developing your content marketing plan is to learn about your market.
Then, we'll work with you to develop content that meets prospects where they are, from their first web search throughout the sales funnel and to the point of conversion.
Medical Device Marketing to the Masses
Of course, you're not marketing to the average person on the street. But, in the earliest stages of the process, you are marketing to medical professionals, clinic and hospital administrators and other prospects you haven't yet met. At this stage, blogging is one of your most powerful tools. Your content meets the prospect's need for information, typically as a result of an online search or because he's followed a link from another trusted resource.
Blog content begins to build trust and establish your expertise in the prospect's eyes. It also offers an opportunity to invite that prospect to take the next step. Offering related premium content allows you to respond further to the prospect's question, and provides an incentive for him to give you his contact information in exchange for that content. When he fills out that form, he enters the top of your sales funnel.
Information Qualified Leads
When a prospect enters contact information in order to receive access to your premium content, you learn a few important things: who he is, how to reach him and that he's interested in the subject matter addressed in your white paper, report or other premium offering.
This premium content builds trust and demonstrates your expertise, but that's only the beginning. Each piece of premium content you make available will end with an offer that invites the prospect to take the next step. Thus, even before you begin the sequence of automated marketing that will warm up that lead and move him toward the sales-ready end of the funnel, you're helping him move forward.
We refer to this offer as the "Branded Offer," because it separates leads who are simply interested in general information from those who are interested in your "branded answer" to their questions.
Moving Prospects Down the Sales Funnel
Your next steps will differ depending upon whether or not the prospect accepts the Branded Offer. For those who remain at the top of the funnel, your lead nurturing efforts will remain focused on answering questions. Your goal, at this point, is to provide enough information to make the prospect comfortable moving forward.
One of the most effective tools for serving up that information and moving the prospect along the funnel is automated email marketing. As we've discussed before, the content of these emails can be gleaned from your sales team's past experience with prospects and customers. Of course, these emails won't just contain answers; they'll also include invitations to download additional premium content (which will, in turn, include fresh Branded Offers).
Content Marketing to Marketing Qualified Leads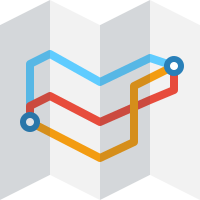 When the prospect accepts a Branded Offer, he lets you know that he's ready to receive product-specific information that might have been perceived as too sales-oriented earlier in the process. In other words, he's shifted from "Information Qualified" to "Marketing Qualified." That means it's time to shift gears and start offering the type of information that will drive that prospect toward conversion.
Just as prospects hover at the top of the funnel if they have unanswered questions, they tend to get stuck in the middle of the funnel when there are perceived obstacles or objections in their way. At this point, your job is to anticipate those pushback points—again, based on your sales team's experience with past prospects—and use content marketing to address them and remove the roadblocks. These efforts will move your prospect toward the bottom of the funnel, where your sales team takes over.
Of course, this is only a high-level overview of the key role your website can play in your medical device marketing plan. Turning your website into an effective conversion machine requires targeted efforts at every stage of the process, including the creation of high-quality content, effective calls to action, enticing landing pages, powerful email messages and more.
Does this sound like the process web visitors go through when they find your company's site? If that answer is 'no' then let's talk about what it would take to build this process out for your company. Find out what you'll get when you request an inbound marketing strategy "Float Plan."
Our team is ready to assist you in handling the entire lead life cycle from lead generation to close. If you're looking to build out your marketing efforts for the digital age, then we want to be a part of your team. Reach out to us today for an initial consultation.
Tags: content marketing, medical device marketing, digital marketing, medtech