Identify and Hire the Key Players You'll Need for Marketing Success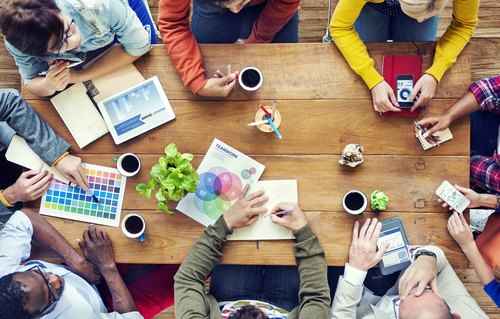 Successful marketers in the digital age have a diverse skill set that combines a variety of disciplines. If you're lucky enough to have found someone who encompasses every one of these, be thankful. It takes a special person to cover this much territory.
Here are the 11 people you need to look for when building your digital marketing dream team.
Copywriter
The copywriter is essential to the content creation process. Copywriters may seem like a dime-a-dozen commodity. With so many websites offering the services of freelancers, it's easier than every to find a writer. Finding a good writer who knows your business is harder.
Having tested these services before, I can say that I haven't found a replacement for a copywriter who is invested in your success and understands how to write for your target audience.
If your products are technical or complex, it's important to find someone who knows your message and who can write for you consistently. A lot of time and effort is wasted when you have to re-teach your messaging to a new copywriter each time a new project starts.
The copywriter is one of the essential pillars of your marketing dream team. Without compelling copy, you don't catch eyes, you don't tell stories, you don't convince, you don't sell. Well-crafted copy from someone who knows your organization's unique story by heart is hard to get right.
Designer
The designer is the team member who makes your creative vision a reality. Their brains are wired for color and composition. They understand how design influences emotion, and they work to make sure that your brand comes across in a visually appealing way.
So much of today's B2B content is built into templates; while efficient and cheap, they don't present your company in a unique way. This is another part of the marketing world where you can find inexpensive freelancers willing to do everything from banner builds to logo creation.
Consider finding a nearly duplicated logo from the logo you purchased from a freelancer for $50. This is the kind of horror story that happens in the freelance design world. While good and honest work can be found in the freelance world, I'd rather be working for a designer who is committed to my team's success.
People do judge books by their cover, especially in the digital world. A great designer will help level-up your marketing campaigns and set them apart from poorly put-together content.
Web Developer
In order to make your precise web page design vision a reality, you'll need an exacting web developer who cares about doing great work. These can be hard to find, and they can be quite expensive.
There are a lot of people who know code who are willing to sign on to do web development. This means you need to make sure you're hiring the right person. Here are some critical things your web developer needs to know:
How to use CSS3 in place of JavaScript.

How to test websites before they go live to ensure they work.

How to make sure that someone can pick up after them in case they move on. It's essential that your developer can write

code that another developer can jump in and start working on.
Web development is a field that moves at the speed of technology. Make sure that you find a developer who challenges themselves to learn new techniques and keeps up with emerging trends in the industry. Here's a good resource for figuring out what kind of developer you have: Good Developers Versus Bad Developers.
Marketing Strategist
The marketing strategist helps concept out your overarching plans and can bring order to your marketing chaos. This person has a keen understanding of the mechanics of marketing. They help your company reverse-engineer your goals into marketing campaign success.
The strategist knows how all of the moving parts work together and can help you build out your marketing calendar. They are tuned into the latest trends in digital marketing and can help you mastermind that ideal inbound content marketing workflow. They're a little of a jack-of-all-trades. They understand a touch of all of these dream team areas, but it's also possible that they're not a master of any of them.
Most importantly, the strategist knows your products and solutions and their benefits. They understand your value proposition not just from a business-to-business standpoint, but from the perspective of your buyer personas as well. They know your market and they know how to put together a plan to attract and engage prospective customers.
The strategist may or may not be your Marketing Analytics Master, but they definitely have a firm grasp of marketing analytics.
Marketing Analytics Master
Your marketing analytics expert is a key player in today's digital marketing environment. This is the person who is going to help you make the most of your marketing investment by leading you toward better data-driven marketing decisions.
They understand how to read and manipulate reporting in Google Analytics (or your marketing automation tools/CRM) and can slice and dice your web traffic metrics to let you know where to get the most out of your marketing dollars. They've spent hours setting up Google Tag Manager and can potentially tell you exactly how many times and for how many average minutes that promotional video on your site was watched.
They set up your site goals and are passionate about using conversion metrics to test your website. This person is driven by numbers and thinks that marketing is a science, not an art. Listen to them, and they'll help you make money.
SEO Expert
Referral bots, ghost traffic, and pogo-sticking...know what these terms mean? Your SEO expert does. They understand how to dig through the BS and determine your real site traffic. They help you make decisions that will attract relevant search traffic.
Want to know if you have a good search optimizer? They're talking about the speed of your website and the quality of your content instead of focusing on your keywords.
Try watching a video like this one, which takes a deep dive into questions about how to title your site pages, and now imagine watching and reading about this stuff on a daily basis. Now imagine having to watch this Rollie Fingers look-alike + hipter digital marketing genius almost every Friday for the rest of your life.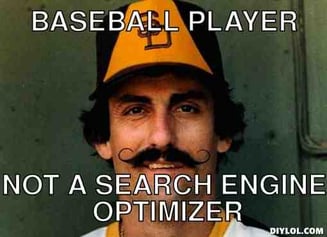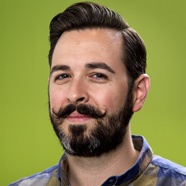 My preference is to let the SEO guy do this. Hire a good one. Your digital marketing managers will thank you.
UX Expert/Conversion Optimizer
The website of UX expert Karen McGrane declares, "On a good day, I make the web more awesome. On a bad day, I just make it suck less."
This is how UX people think about the web. Imagine having an elaborate opinion about where the toilet paper is located in a grocery store versus where it is at Bed Bath and Beyond. Imagine making detailed maps of the visitor's journey to find an individual item. This is the kind of obsession a UX expert has about web traffic user flow and website site heat maps.
For many B2B companies, the difference between good digital marketing and great digital marketing is getting visitors to convert on their website. UX experts spend their days thinking about how to give people a great web experience and how to get them to convert on your landing pages and web stores.
Social Media Leader
Ah, the much maligned social media leader/expert/guru/wizard. I know from experience that a lot of people don't put much regard in this position, but if you're looking to make a long-term impact in this space, then you need someone who lives and breathes B2B social media.
People are taking to social media every day to learn more about products and services like yours. Awareness of your brand is raised when someone who may not visit your website regularly goes to Twitter or LinkedIn and sees an update from your brand or is directed to your site via a posted link.
You don't have to be a guru to have a general understanding of the mechanics of social media, but you do have to pay very close attention to it regularly to move the social media needle. Having someone who not only knows social, but who can help to rally your team around the social media cause, is critical to B2B social media success. When hitting on all cylinders, a good social media manager will help your site get more visits and conversions.
Digital Advertising Specialist
Internet ads have changed for the better in the last five years. Even Hubspot's Darmesh Shah has come around to it a bit, declaring that advertising isn't all bad. A great digital ad person can help you get in front of the right audience using ads on social media. They understand the targeting sets for LinkedIn advertising, they can pinpoint an ideal audience on Facebook, and they've run Twitter ads to help your company gain followers.
A great digital advertiser also has a deep understanding of SEM. They can help you drive relevant paid search traffic to your website and landing pages. Don't settle for someone who just "knows" AdWords. Look for a professional who has taken the time to study Google advertising and has their various AdWords and Google Display advertising certifications.
This is a valuable person to have on your team. A skilled digital advertiser can help you understand, dollar-for-dollar, how effective your advertising is at bringing in converting traffic to your website. They'll know where to spend, whether to use CPC or CPM, which audiences produce the most return, and how to help you elegantly weave together your advertising and SEO work with advertising tactics like remarketing.
Digital Marketing Manager
This is your point-person. The quarterback of your campaign. They understand inbound and outbound marketing and know which of your key players they're going to need to lean on to make a campaign successful.
The digital marketing manager has the people skills to work with the leadership of your sales and marketing teams and execute campaigns that fulfill your company's goals.
They can speak the language of the designers and developers well enough to communicate the play and can translate instructions and edits from your stakeholders. A great digital marketing manager can weave together all of the various campaign elements that the strategist put together and make your integrated campaigns work together seamlessly.
The Connected Salesperson
Of all of the key-players here, this could be your biggest unicorn. The connected salesperson is not a myth though, and finding one will help you win more business.
The connected salesperson understands the goals of your digital marketing campaigns. They use all of the digital resources at their disposal to nurture leads. A great connected salesperson is tuned in to your messaging and content workflows. They know when it's time to push forward and can work to progress your leads to the next sales stage.
Here's are some skills to look for in a connected salesperson:
Doesn't just have a social media profile, but is active online and knows how to use social channels to reach customers and prospects
Is fearless and will pick up the phone to follow up on your inbound leads in a timely manner
Is an expert at both in-person sales and telemarketing
Is willing to consume and understand all of the content that you're building for your customers
Fills in your content feedback loop by bringing customer and prospect feedback to your strategists and marketing managers
Filling the Gaps in Your Marketing Dream Team
Not everyone will have the capabilities or the resources to put together this ideal dream team. Know that there are reliable agencies out there who can help fill the gaps with outsourced marketing talent.
Are you ready to build your marketing dream team? If you're looking for some more help on putting together your master plan, then get your copy of our eBook, How to Create a Love Story Between Inbound and Outbound Marketing.
Tags: digital marketing