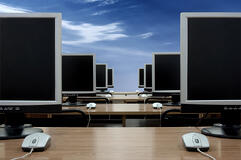 Starting a new company is an exciting venture. It can also be scary once you look at all the things you need to do in order to be successful. First and foremost, you need to make a name for yourself. If you are just starting out, how will anyone know you exist? In a world of competition, you need people to know that you are an option.
Here are five ways for startup companies to market themselves:
Be active in the community More than likely, you will initially be targeting a local audience. There are plenty of things you can do to make a positive impact in your community that won't cost a whole lot of money. Organizing a charity fundraiser is one example, and it's a great cause that can get your name out to the public. As an added bonus, you will be giving yourself plenty of good PR, which is vital as you begin business.
Start a blog As you start, you need something of value to offer potential customers before you get settled as a fully operational business. A blog is a perfect way to offer advice, opinions, and advertise your company. For example, the web based financial service mint.com is very popular today, but it started off as a financial advice blog.
Leads This obviously depends on the company, but any B2B service needs quality sales leads to survive. By going off of these leads, you establish business relationships, retain customers and provide an opportunity for positive word of mouth to spread.
Be creative You may already have a blog, but if you really want to be remembered you may have to offer your customers a little more. A jingle can be created and uploaded to iTunes in minutes. A video can be added to YouTube in the same amount of time. If you can offer something of high quality, potential customers will want to check you out.
Socialize We know about the social media giants such as Twitter and Facebook, but there are several other services out there designed specifically for companies to get noticed. Make sure you are creating business profiles all over the web. LinkedIn is a site created specifically for companies, their employees, and other business professionals to socialize. Google has several applications that can help as well. Make sure that your profile has just enough information to entice prospects without being too long.